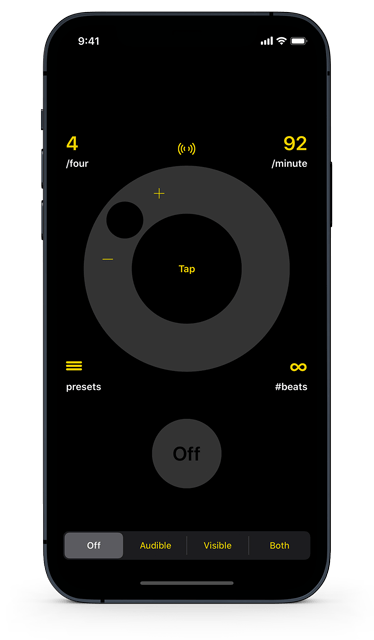 Never miss a beat.
Beat Keeper combines clarity and utility in a distinctly modern package. Designed for the ultimate accuracy, it uses auto-correcting timekeeping to ensure that every device can keep up. It features an audible mode that plays traditional metronome sounds, and a visual mode that animates to provide unobtrusive guidance–it's the metronome Beethoven never had.
Learn More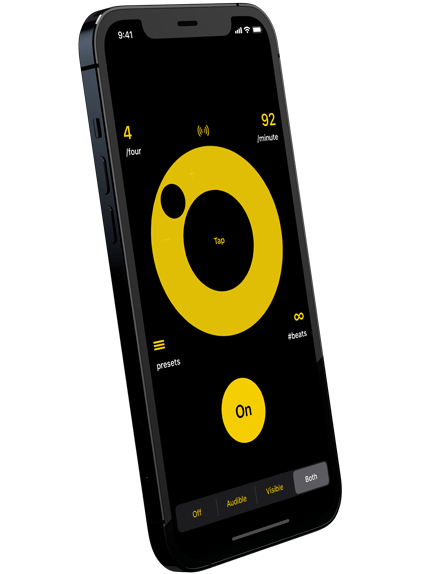 Presentation
Beat Keeper's interface starts with a familiar foundation: a circular dial that lets you quickly set the metronome's speed to anywhere from 28 to 208 beats per minute. For minor adjustments, tap the plus and minus buttons instead. Or just tap the BPM value in the top right-hand corner to type in a new number (up to 300). You can even tap the center of the dial twice to set your tempo by feel.
In the top left-hand corner, a time signature value controls if and when Beat Keeper uses a "tick" sound in addition to the normal "tock" sound. If sounds aren't the right answer, use Beat Keeper's visual mode instead. It lights up the entire dial to show you when each beat occurs, and it can be used on its own or in conjunction with sounds to give you the right amount of feedback.
Beat Keeper works in landscape orientation too, so you can use it when your device is charging or connected to audio equipment. It supports both Split View and Slide Over on the iPad, and it continues playing even when it's not visible on screen. It also works with your device in silent mode so you can avoid interruptions.
And, just like our other apps, Beat Keeper was designed to provide precise and clear values without distracting frills or effects. Plain, simple, and spot on every time.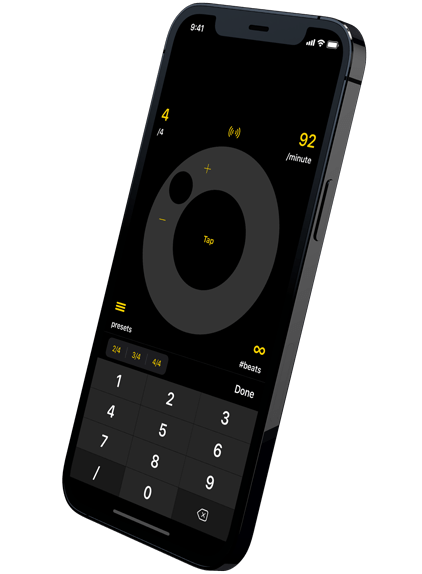 Power
Beyond the obvious features, Beat Keeper includes a series of helpful additions that let you work more efficiently. The Presets panel lets you save your current configuration, adding it to the list for easy access. Once you've set up a few, switching between them takes just two taps and since they sync across all of your devices using iCloud, they're available everywhere.
If you need to get a feel for your tempo but don't need the metronome to tick away endlessly, use count-in to specify a limited duration—in number of beats or measures—and it'll switch off automatically once it reaches that point.
When you're using headphones to hear Beat Keeper's sounds, you can choose to use both channels, or just the left or right channel. It's the best sort of feature: it helps a ton when you need it and gets out of the way entirely when you don't.
These kinds of thoughtful additions provide depth to an app that has many half-hearted competitors in the App Store. We set out to create a better metronome app that focuses on real musician's needs rather than gimmicky holiday themes, and we think the end result speaks for itself.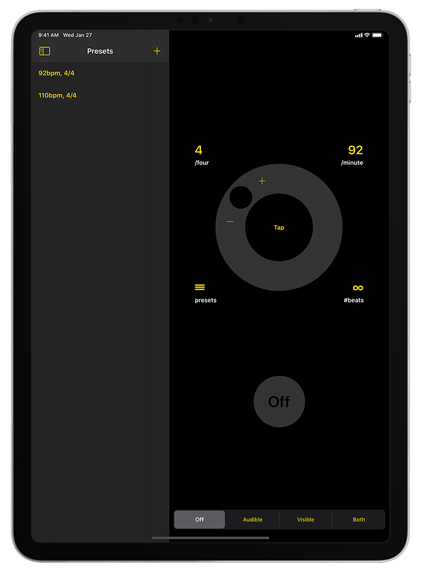 Precision
Programming a metronome is easy, but making it accurate and reliable is another story entirely. If there's anywhere that performance really matters, it's with a metronome—even a tiny bit of drift can add up. The first version of our metronome worked fine on the latest hardware but fell behind on older devices, so we went back to the drawing board.
We rewrote our metronome's audio engine several times, trying different approaches until we were sure we had the kind of precise timekeeping tool that musicians rely on. Not only did we achieve millisecond-level accuracy across a wide battery of tests, we kept our ticks and tocks in line even when Beat Keeper was in the background and other apps ate up the majority of the system's resources.
After achieving our high goals for a best-in-class audible system, we knew we had to have a visible mode to match. Animations are even trickier to keep in sync than sounds are, so we set up an auto-correcting system that monitors Beat Keeper's visual effects with every tick and adjusts them as needed. It's the perfect combination, bringing modern conveniences and innovation to the high standards of accuracy of physical metronomes.
Beat Keeper for Mac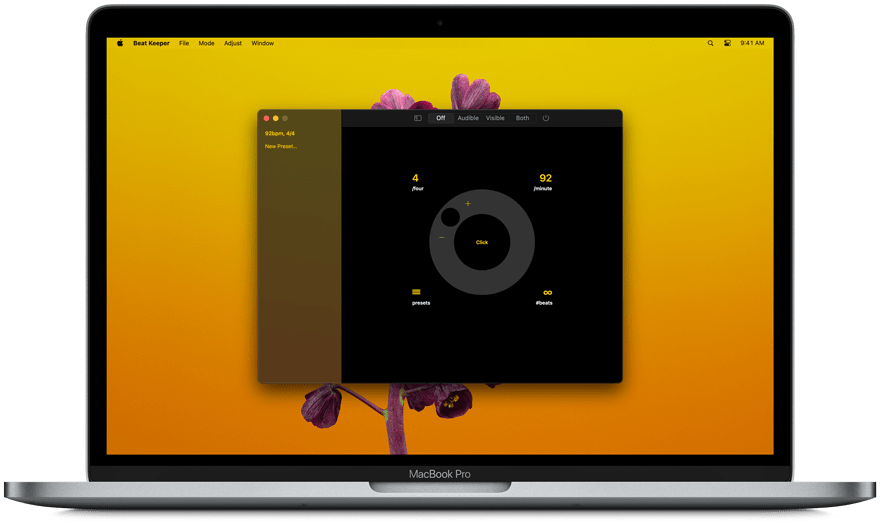 Available now for the Mac, Beat Keeper shines on the big screen with its smart design that takes full advantage of features like the title bar, menu bar, and touch bar. Paired with a keyboard and an array of keyboard shortcuts, it's the perfect utility for your desktop or laptop.

Available now.
Beat Keeper is available now on both the App Store and Mac App Store as a single universal purchase, allowing you to install and use it on up to ten of your Apple devices at no additional charge. Beat Keeper is available for iPhone, iPad, iPod Touch, and Mac. Beat Keeper requires iOS 12.4 or later (including all versions of iPadOS) and macOS 11 or later. Beat Keeper and three of our other utilities are also offered as a bundle, the forScore Music Box.