Content Providers
Transitioning to digital sheet music has never been easier thanks to forScore's Content Provider program. We've worked with some of the world's largest sheet music sellers to allow you to download your purchases directly into forScore as standard PDF files. Unlike PDF files you create with a scanner, these files are tens or even hundreds of times smaller, saving you both storage space and battery life.
Because they're created digitally, you don't have to deal with photocopier artifacts and mis-aligned, rotated, or missing pages. Lots of things that can go wrong when taking pictures of paper just aren't a problem with vector-based scores. They're ready to go as-is, so you can get straight to playing instead of getting stuck with a bunch of touch-up work.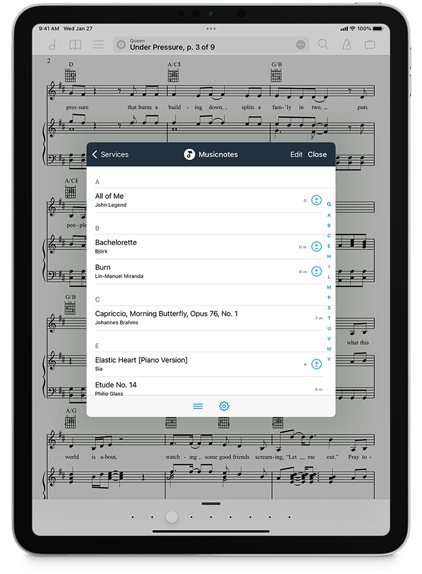 Music, not apps
For years, various publishers sold content through their own iPad apps. To get to a specific piece, you'd have to remember which publisher sold it to you first. Each app worked differently and constantly switching between them quickly became a non-starter for most musicians.
That's why we were so eager to partner with companies, beginning with Musicnotes, who were willing to let their customers to use an app like forScore without having to resort to legal gray areas to get that music copied over. Since then, we've welcomed Noteflight, Virtual Sheet Music, Carl Fischer, Presser, and BriLee Music to our content provider program, and that's just the beginning—we're adding new publishers every year.
How it works
To download music from one of these providers, just open forScore's Services panel, pick a provider, and log in with your account. Tap on a piece of music to download it, and that's it. No password-protection, no unnecessary restrictions, just high-quality content and the music reading experience you love.
Transactions
forScore does not sell this content directly, we provide access to your purchases once the transaction has been processed through the provider's website. To help with development costs and ongoing maintenance, we use a special affiliate link on our website and within our app to earn a small commission on each qualified purchase. You do not have to use this link for your purchases to appear within forScore.