forScore 11.1
Available Now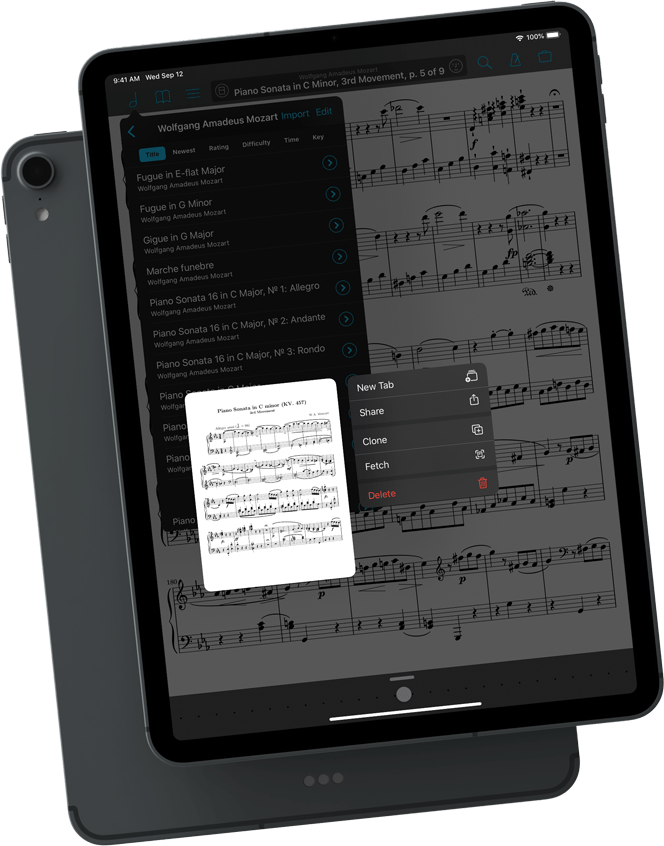 Dark Mode
More than just a theme, iOS 13's dark mode is a perfect fit for a performance environment or late night session.
Each of forScore's dozens of views and panels has been thoughtfully updated to look its best, night or day. Whether you're using the app's default tint color or you've customized it, forScore adjusts its brightness without changing its hue to give you great legibility at all times.
forScore can even dim the pages of your music so you can play more comfortably in low light without sacrificing readability or inverting colors and annotations.
Smart Invert
If you prefer to view inverted pages, forScore now works even better with iOS' Smart Invert feature to selectively invert interface elements where appropriate while leaving others unaffected to preserve usability.
Contextual Menus
With iOS 13, contextual menus let you do more with your content by combining thumbnail previews, swipe actions, edit mode actions, and Drag and Drop all into one elegant interaction.
Whenever you want to do something more than select an item, from the services panel to annotation layers, use a tap and hold gesture to see all of the available options.
Shortcuts
Customizable keyboard shortcuts give you quick access to common actions right from forScore's main view, and certain menus and other views support basic commands, but forscore 11.1 greatly expands that support.
From common navigation functions in menus to more specific functions in utilities like the metronome and pitch pipe, you can do more without tapping the screen.
Layers
Tap and hold an annotation layer to access new contextual actions that allow you to copy its contents and then either paste them over or entirely replace the contents of another layer (even on a different page).
Apple Pencil
Last year we added the ability to switch tools while in annotation mode using Apple Pencil 2's unique double tap gesture and our customers absolutely love it.
Since it only works while in annotation mode, though, it's less useful for people who take advantage of forScore's instant annotation options.
Now, you can double tap to switch tools at any time so you can get the right drawing function ready before you start drawing. A small preview briefly appears in the top corner of the screen so you can see which tool is selected.
Scan
Since its introduction, forScore's Darkroom has provided a convenient way to digitize scores on the go, but it couldn't compete with document scanning apps or a traditional flatbed scanner—until now.
iOS 13 includes a new document scanning feature that automatically detects pages and snaps a photo, applying optional filters for the best possible results. It's Darkroom's new default input method, so we're giving it a brand new name: say hello to 'Scan.'
Design
There's a lot more to love in iOS 13 that forScore shows off beautifully. From standard system iconography to interactively dismissible modal views, we'll be there on day one to celebrate the numerous design and usability improvements Apple has made over the past year.
Help
There's a lot to love in forScore, and if there's an item in the tools menu you haven't had a chance to explore yet it's now even easier to get started: tap and hold an item to open its contextual menu and choose "Learn More" to see the relevant documentation, if available.
Updates
We update forScore regularly, and between automatic updates and constant App Store redesigns it can be hard to keep track of what has changed from version to version. After updating, you'll now see what's new and you can access it again at any time by choosing Support from the tools menu.
We don't use accounts or harvest email addresses, so release notes are the best way for us to communicate important changes to you. We constantly add new features, and now you won't miss any of them.
forScore

Pro
Face Gestures
For years, some apps have claimed to provide easy page turns when you wink or stick out your tongue. They over-promise and fall flat in actual use, amounting to little more than a gimmick, but with forScore 11.1 that all changes.
On devices sporting a TrueDepth camera system, you can now use subtle mouth or head movements to turn pages. These gestures were engineered with musicians in mind, accounting for normal body movements to produce reliable results. Raw technical power isn't enough on its own—it requires a thoughtful human touch to create something truly innovative.
Pop-up Menus
In annotation mode, drag down from drawing presets or the eraser, stamp, and shape tools to quickly change their size. You can also drag down from the selection tool to switch between freeform and rectangular selection.

Available Now.
forScore 11.1 and all of these amazing upgrades are available now, absolutely free for all existing users. Get it today on the App Store, and be sure to check out our news page or use our RSS feed to follow our latest news and announcements.