All Categories / Devices and Accessories
With forScore 12.0.5 or later running on iOS or iPadOS 14, you can flip pages by turning your head while wearing AirPods 3, AirPods Pro, or AirPods Max. This feature requires AirPods firmware 3A283 or newer and a device that supports motion processing (Apple has not provided a list of compatible devices).
To enable AirPods gestures, open forScore's Tools menu and choose Settings, then Devices. Tap "AirPods" to enable or disable this feature, adjust its sensitivity or invert its direction, and test it out with visual indicators (shown if at least one AirPod is connected and in your ear).
To flip pages backward or forward, hold your head still for a moment and then turn to the left or right with a quick and steady lateral motion (similar in speed and movement to a swipe gesture performed with your finger). Since gestures aren't relative to your screen, you can start them from any position: forScore establishes a resting baseline, then waits for horizontal movement to determine when you're trying to turn pages.
Troubleshooting
If you're experiencing issues, first ensure that your setup meets the minimum requirements: forScore version 12.0.5 or later (forScore's Tools menu › Support), iOS or iPadOS 14 or later (Settings app › General › About), and AirPods firmware 3A283 or newer (Settings app › General › About › [AirPods name]). AirPods firmware is updated automatically under certain conditions and Apple does not provide users with any explicit way of forcing an update. If you need assistance updating or connecting your AirPods, please contact Apple Support.

Place one or both AirPods in your ear(s) or place AirPods Max over your ears and ensure that they are paired and connected to your device—look for the headphones icon in the top right-hand corner of the status bar. If that icon is not shown, your AirPods may be connected to a different nearby device; open the Settings app › Bluetooth and tap on your AirPods name to connect them.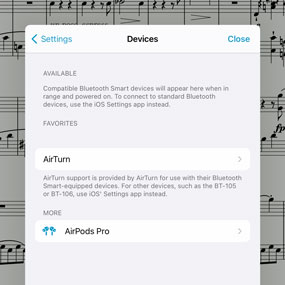 Open forScore's Tools menu, choose Settings, then Devices. If you do not see AirPods listed here, your device does not support motion processing. Otherwise, select it from the list and allow forScore to access "Motion & Fitness" data when prompted. If you're not automatically prompted to grant access to this data, or if you want to change your settings in the future, open the Settings app and choose "forScore" to find this and other privacy settings.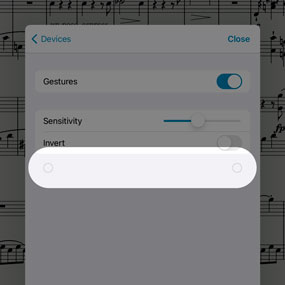 Enable gestures and you should see two circles appear below the "invert" setting. This is a visual indicator that lets you try out head turn gestures. If these circles do not appear, data is not being received from your AirPods; If they do appear, turn your head left and right to see the blue flashes that indicate a successful gesture.
Note: due to the complex requirements listed above, our ability offer one-on-one support for gesture and device setup is limited. Please read these directions carefully and ensure you've followed them all before contacting us for assistance.