forScore and Musicnotes.com have teamed up to bring you the ultimate combination of tools and content. Musicnotes is the world's largest digital sheet music retailer and publisher, with an incredible catalog of over 300,000 arrangements and a proven record of satisfaction with over 35 million downloads to more than six million customers. And now, with forScore 10.4, you can access all of that content and download it directly into your forScore library. It's the music reader you love, the tools you rely on, and the workflow you're used to—linked into the incredible world of content you've been waiting for.
The Digital Difference
PDF files are usually created either from images or from fonts and vector information. Images can more accurately duplicate paper, creases and all, but the resulting PDF files are dramatically larger and take a lot more work to display. That can really start to slow things down and use up more of your device's battery power. Vector files are tens or even hundreds of times smaller than their image-based counterparts. They look great and perform incredibly well, giving you a dramatically better experience, longer battery life, and saving you a bunch of storage space on your device at the same time.
Because they're created digitally, you don't have to deal with photocopier artifacts and mis-aligned, rotated, or missing pages. Lots of things that can go wrong when digitizing paper just don't with vector-based scores. There are no tradeoffs between quality, resolution, or size. They're infinitely scalable and perfectly reproducible. They're ready to go as-is, so you can get straight to playing instead of getting stuck with a bunch of touch-up work.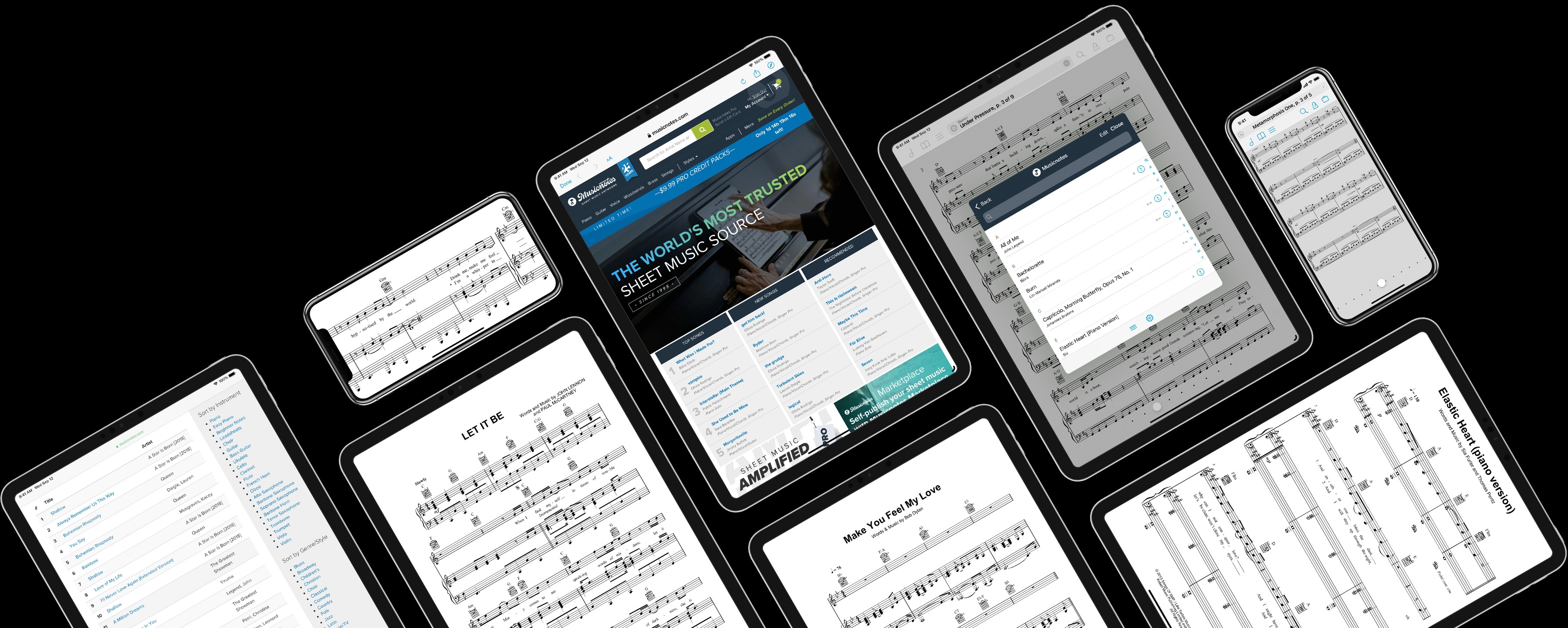 Licensing
Digital scores purchased through Musicnotes.com are fully licensed so musicians get paid what they deserve and you don't get stuck in legal gray areas. In return, you get to use those scores however you need to—there are no unnecessary restrictions, no passwords, just standard PDF files. Rearrange pages, edit their embedded metadata, annotate them and back them up or copy them to a new device when you upgrade.
We know it can be tough to find the content you're looking for in a format that's flexible enough for real, everyday use. Content that doesn't put you in legal limbo, and that doesn't carry an unreasonable cost. Content that's offered in a reasonable way, for a reasonable fee, that benefits you and the copyright holders alike. Now there's an easy answer to all of that.

Accessing Purchases
Once you've created an account through the Musicnotes.com website on your computer, iPad, or any other web-connected device, open forScore and choose "Services" from the Tools menu. Tap "Musicnotes" and sign in with your username and password, then you'll see a list of any content you've already purchased. Tap an item to download it, swipe from right to left to download it and add it to a specific setlist, or use Edit mode to select multiple pieces and download them all at once. If a purchased title includes multiple keys, tap the "…" button next to the title to select the key you'd like to download.
Notes
forScore, LLC and Musicnotes, Inc. are separate companies with no administrative affiliation or lineage. We offer the ability to access, download, and view content purchased through Musicnotes.com as a convenience and at their sole discretion. They're responsible for the content, run the servers, handle transactions, and more. Purchased content and your usage of it is governed by third-party terms of use, policies, and guarantees.
Links
forScore does not sell Musicnotes content directly, we provide access to your purchases once the transaction has been processed through their website. To help with development costs and ongoing maintenance, we use a special affiliate link on our website and within our app to earn a small commission on each qualified purchase. You do not have to use this link for your purchases to appear within forScore.