forScore and Noteflight have teamed up to bring even more incredible content to forScore. Noteflight is the world's first and best online music notation software and offers a marketplace for buying and selling music. All purchases are adaptable Noteflight notation files that can be printed, exported to PDF, and now with forScore 11 they can also be downloaded directly into your forScore library. It's the ultimate combination of high-quality content and the features and tools you love.
Licensing
All music purchased in Noteflight Marketplace is fully licensed so rights holders are always fairly compensated. Music is purchased for the number of authorized performers you need so there are no limits on printing, exporting, or creating editable copies. As long as you purchase usage for your total number of musicians, you can use and adapt your Noteflight score to meet your needs and open all versions of your purchase in forScore.
We know it can be tough to find the content you're looking for in a format that's flexible enough for real, everyday use. Content that doesn't put you in legal limbo, and that doesn't carry an unreasonable cost. Content that's offered in a reasonable way, for a reasonable fee, that benefits you and the copyright holders alike. Now there's an easy answer to all of that.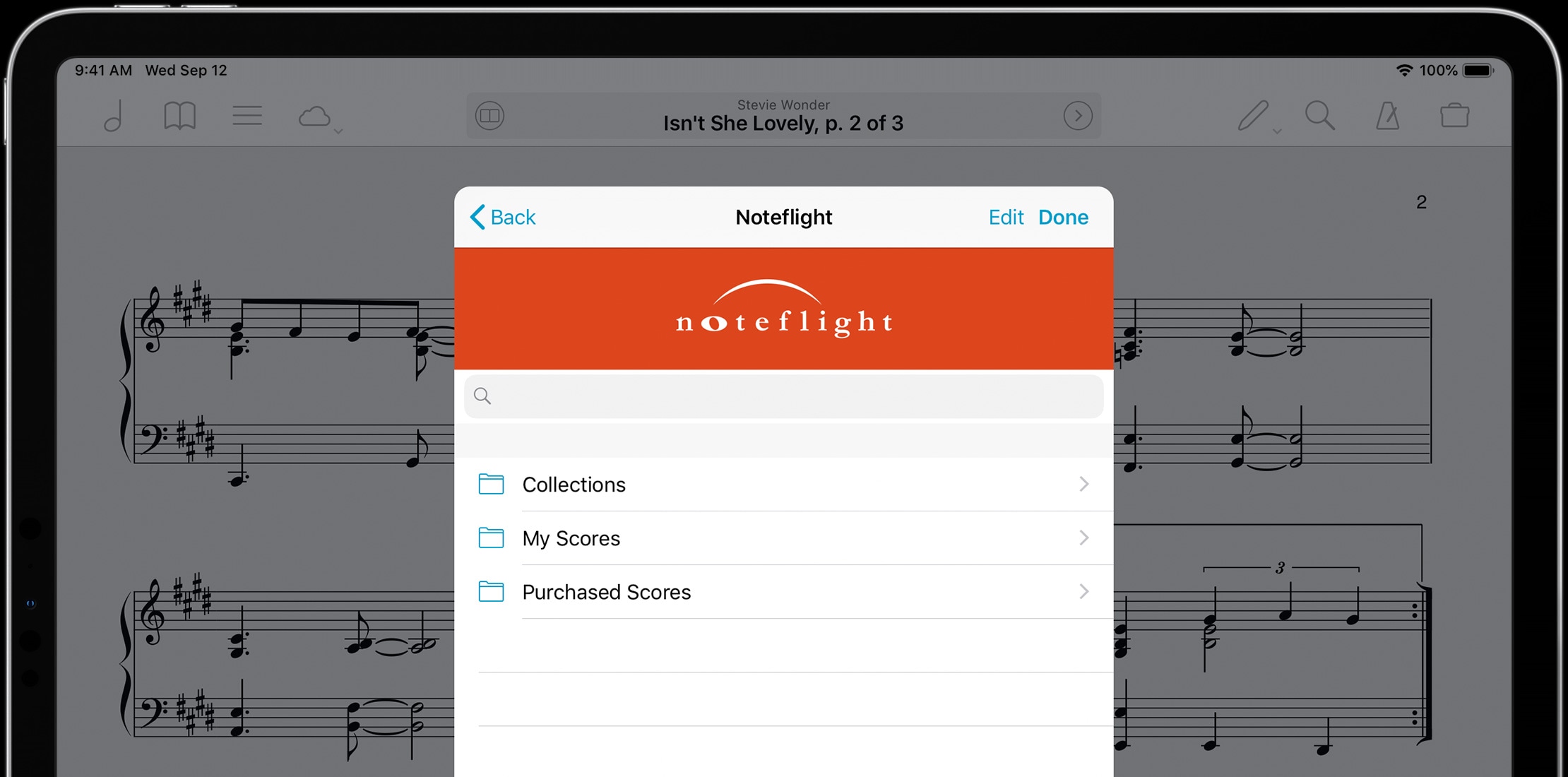 Accessing Purchases
Once you've created an account through the Noteflight.com website on your computer, iPad, or any other web-connected device, open forScore and choose "Services" from the Tools menu. Tap "Noteflight" and sign in with your username and password, then you'll be able to access any content you've already purchased. Tap an item to download it, swipe from right to left to download it and add it to a specific setlist, or use Edit mode to select multiple pieces and download them all at once.

Notes
forScore, LLC and Noteflight, LLC are separate companies with no administrative affiliation or lineage. We offer the ability to access, download, and view content purchased on Noteflight Marketplace as a convenience. Noteflight, at their sole discretion, offers the ability to purchase scores on Noteflight Marketplace and operates under their own Terms of Use.
Links
forScore does not sell Noteflight marketplace content directly, we provide access to your purchases once the transaction has been processed through their website. To help with development costs and ongoing maintenance, we use a special affiliate link on our website and within our app to earn a small commission on each qualified purchase. You do not have to use this link for your purchases to appear within forScore.