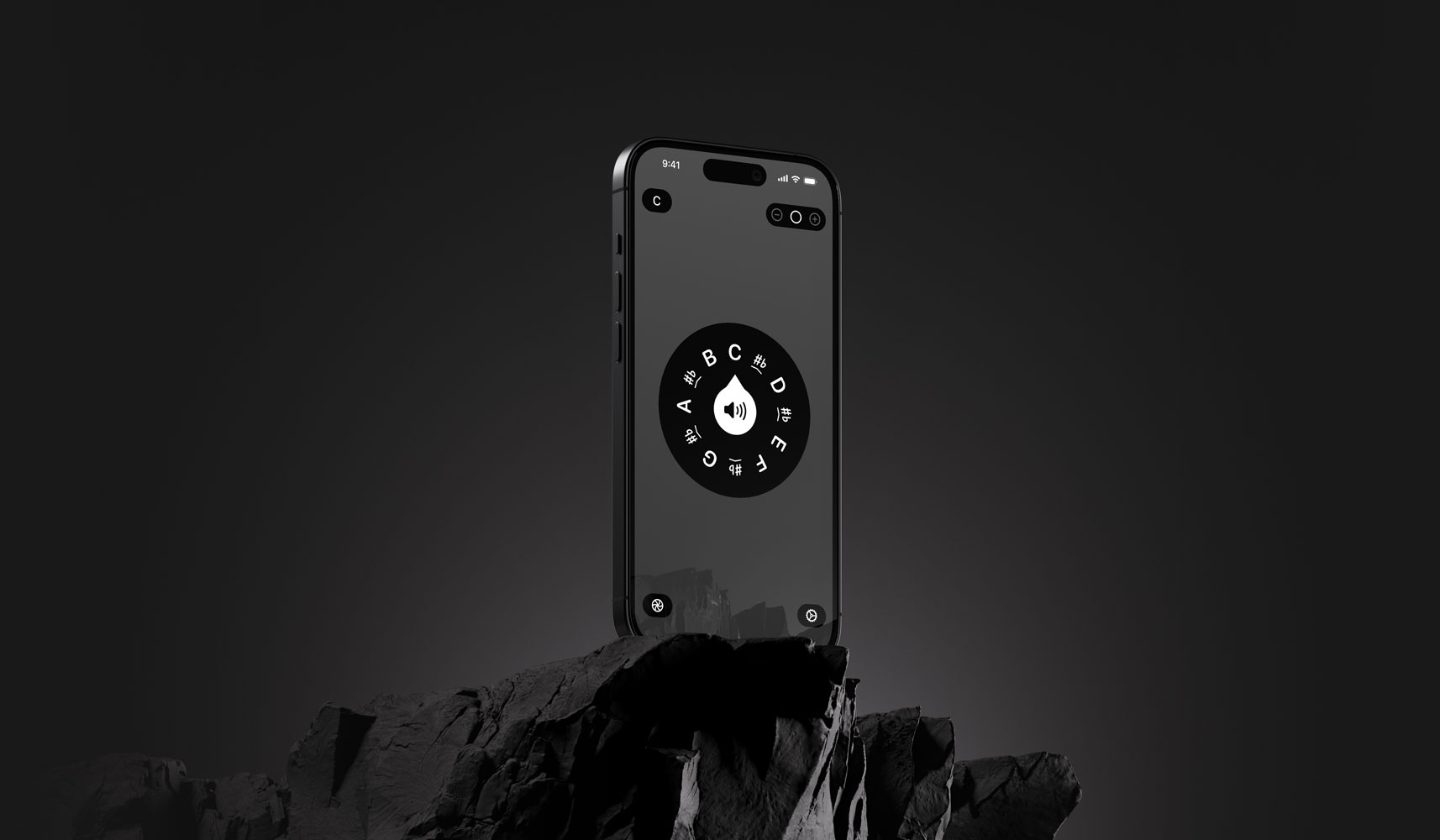 Start off on the right note.
Find your starting pitch in seconds with Onyx for iPad, iPhone, Apple Watch, and Mac. Our pitch pipe app is ready when you are, available on your home screen, your lock screen, or right on your wrist with the bundled Apple Watch app.
Learn More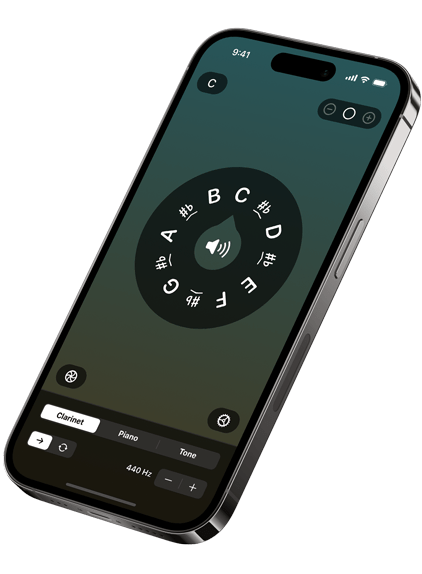 On Your Home Screen
Onyx sports a three-octave range in C-C or F-F and features four original, high-quality sound banks that can play short samples (clarinet or piano) or loop them continuously (strings or horns). Or, for pinpoint accuracy, use our custom sine wave generator instead and avoid those annoying loud pops that some other apps create. All sound options can be finely tuned to your preferred frequency.
It even works when your device is in silent mode, so you don't have to remember to flip the switch each time or worry about embarrassing interruptions.
Visually unobtrusive and easy to use, Onyx features four distinct themes—two that adapt to light and dark mode—so you can pick whichever works best for you in any scenario.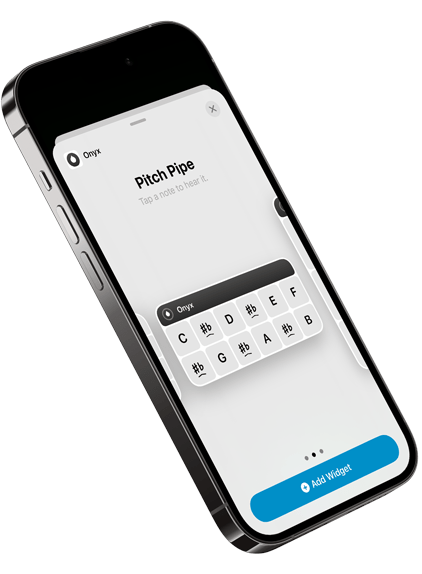 On Your Lock Screen
With iOS 16, add the built-in shortcut widget to your lock screen to jump right into the app at any time with just a quick tap.
Or use the new interactive widget* for a instant access from your home screen, Today View, iPhone StandBy, iPad lock screen, or Mac desktop. Just tap a note to hear it with your preferred tuning—it couldn't be simpler. Onyx's widget is available in three sizes so you can fit them almost anywhere.
*Requires iOS 17, iPadOS 17, or macOS 14 Sonoma. The legacy Today View widget is currently still available for devices running older OS versions.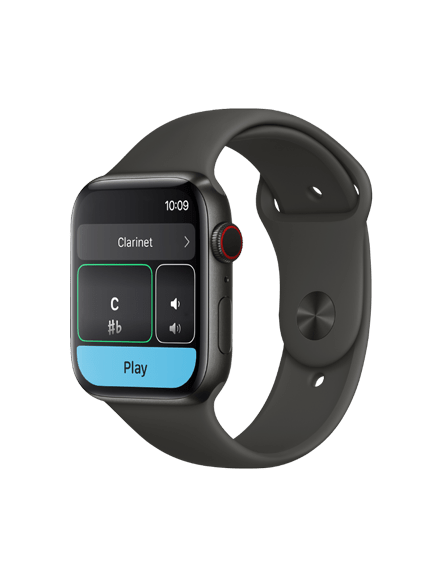 On Your Apple Watch
Your wrist is the perfect place for a pitch pipe, and watchOS is just the thing to bring it to life. Use the Digital Crown to select your note, and tap the "play" button to hear it through the Apple Watch's built-in speaker or through your connected Bluetooth audio device. Add the included complication to your watch face for even quicker access at any time.
Just like it's larger counterpart, Onyx for Apple Watch can play your note using the same beautiful clarinet or piano samples, or generate a tone tuned to your exact frequency (due to technical limitations, fine tuning is currently unavailable for Clarinet and Piano sounds on watchOS).
Best of all, the Apple Watch app is bundled with the iOS app, so there's no extra charge to download it. It even works independently so you can install and use it without having the iOS app installed on your phone. If you've got an Apple Watch, it's a no-brainer.
Onyx for Mac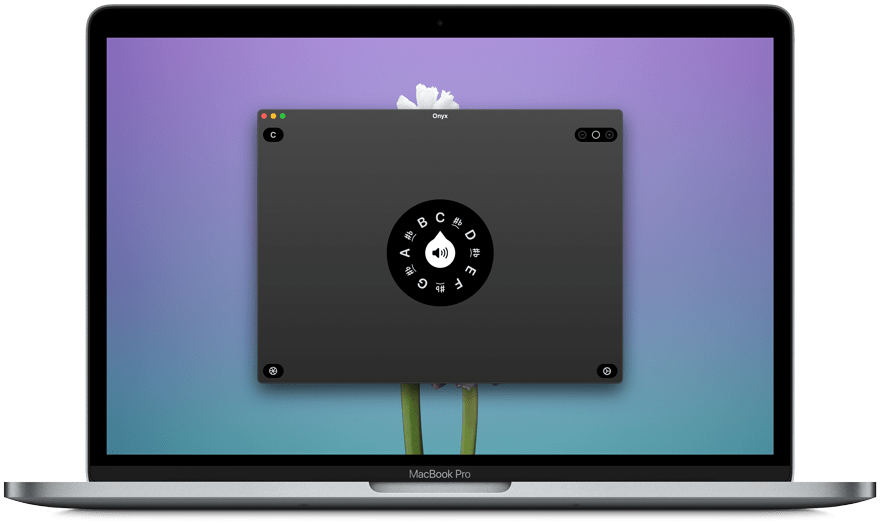 Even on your Mac, you can always access the streamlined utility you love no matter which screen you're using. It's the same great experience as on all of your other devices, but with full support for Mac standbys like the menu bar and touch bar. Thanks to its extensive support for keyboard shortcuts across all devices, you'll feel right at home with Onyx whether you're using a touch screen, keyboard and cursor, or both.

Available now.
Onyx is available now on both the App Store and Mac App Store as a single universal purchase, allowing you to install and use it on up to ten of your Apple devices at no additional charge. Onyx is available for iPhone, iPad, Apple Watch, and Mac. Onyx requires iOS 14 or later, iPadOS 14 or later, watchOS 8 or later, and macOS 11 or later. Onyx and three of our other utilities are also offered as a bundle, the forScore Music Box.