Go paperless. Get organized. Download and play something new in seconds.
With forScore, your sheet music has never been better—it's everything you can do with paper and so much more.

Apple Pencil
forScore doesn't just support Apple Pencil, it was practically built for it.


With Apple Pencil, annotating is as simple as drawing. No need to activate annotation mode, forScore is always ready to faithfully capture your notes as precisely as possible the moment your Apple Pencil touches the screen. It's just like paper, but with an undo button.
Universal
Encore
forScore is a universal app for iPad, iPhone, and iPod Touch. The small-screen experience is built around Reflow, our innovative technology that transforms standard PDF pages into easily readable content on any device.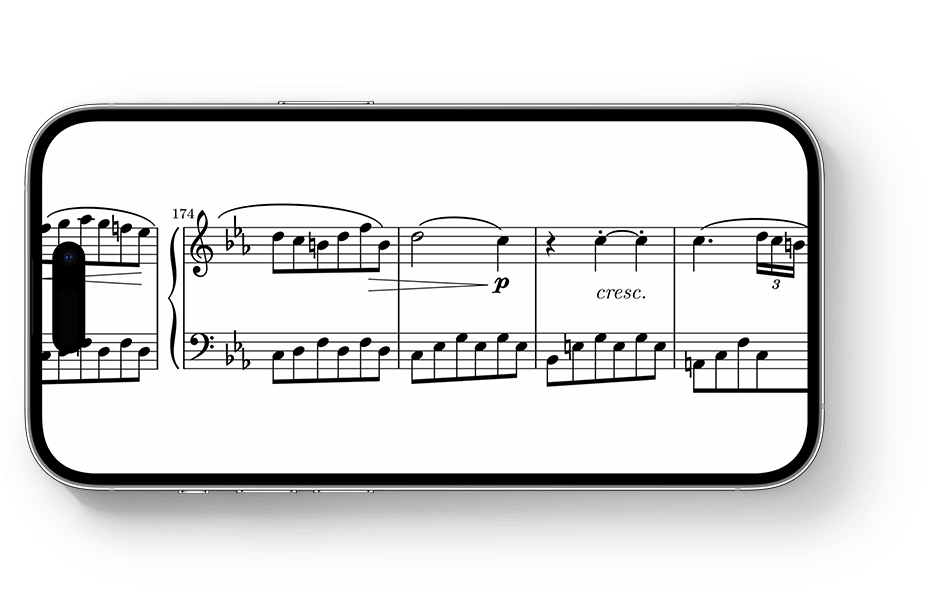 Updates
forScore 11.2
forScore 11.2
Our latest major update is available now, featuring big upgrades and enhancements like continuous pitch pipe sounds and a whole new cropping experience, incredible new features like Spotlight search and enhanced cursor support, and access to even more great content from Virtual Sheet Music. All that and more, available now as a free upgrade for all current users.
Raves
"…make[s] finding exactly what you need — even among thousands of pages — quick and easy."
"It continues to set the standard in this crowded market place for performing musicians."
★★★★★
"…programs like forScore arguably turn the iPad into the best sheet-music tool ever."
"I can't recommend this professional app highly enough. It just keeps getting better!"
★★★★★
"It even works better than paper…the biggest innovation in sheet music since sheet music."
Buy Now
Spotlight
Compatibility
requires
iOS 11
11.0 or later
optimized for
OS 13
iOS & iPadOS
Use forScore with your iPad, iPhone, or iPod Touch running iOS 11 or later (aka iPadOS)