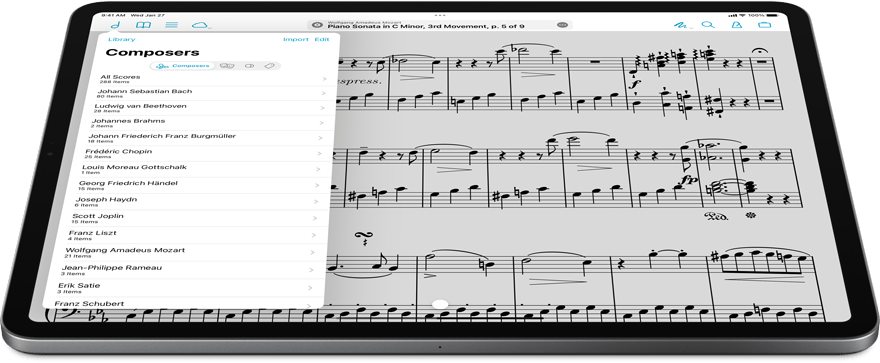 The world's library, just millimeters thick.
Your music library
As easy as PDF
Since they're so common, forScore was designed around the PDF file format. That makes finding new music, digitizing your existing collection, and sharing files with colleagues a breeze.
Automatically organized
Instead of worrying about files and folders, forScore lets you add then search or browse by metadata like composer, genre, or key. Menus are generated automatically, so they're always up to date.
Instantly available
Add files from your computer, connect to popular cloud services like Dropbox, OneDrive, and Google Drive, or download and import PDF files from other apps like Safari. Go ahead, take requests.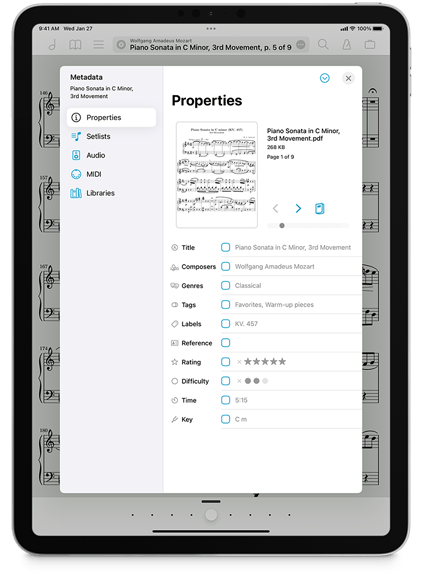 Metadata
Add an unlimited number of comma-separated composers, genres, tags, and labels to each of the scores in your library. Set a rating, difficulty level, duration, and key to find a piece that's just right. Batch edit multiple files at once, and even import standard PDF metadata like title, author, subject, and keywords.
With forScore, your menus are always up to date because they show attributes instead of locations. Since one file can have many different attributes, it can appear in several different lists simultaneously, and you can focus on what you want instead of where you left it.
If some types of metadata don't fit your needs, simply rename them. With forScore, your library works for you—not the other way around.
Audio tracks
Associate audio files with each score to play with backing tracks. Adjust their speed or pitch independently, play a specific section on a loop, or even turn pages automatically at particular points in the song.
Beyond Paper
Half-page turns
See the bottom half of the current page and the top half of the next page at the same time for perfect transitions and zero visual interruption. No scrolling, no gimmicks, just an easy solution to an age-old problem.
Hands free
Bluetooth or MIDI accessories like the AirTurn PED and iRig Blueboard can make page turn pauses a thing of the past. Just set one on the ground next to you and tap the pedals with your foot to flip between pages.
Repeats
Handle repeats with style by creating a link between two pages of a score. Tap on a link, and you'll be taken to the target page where a signal will flash twice, showing you exactly where to begin playing.