forScore
Pro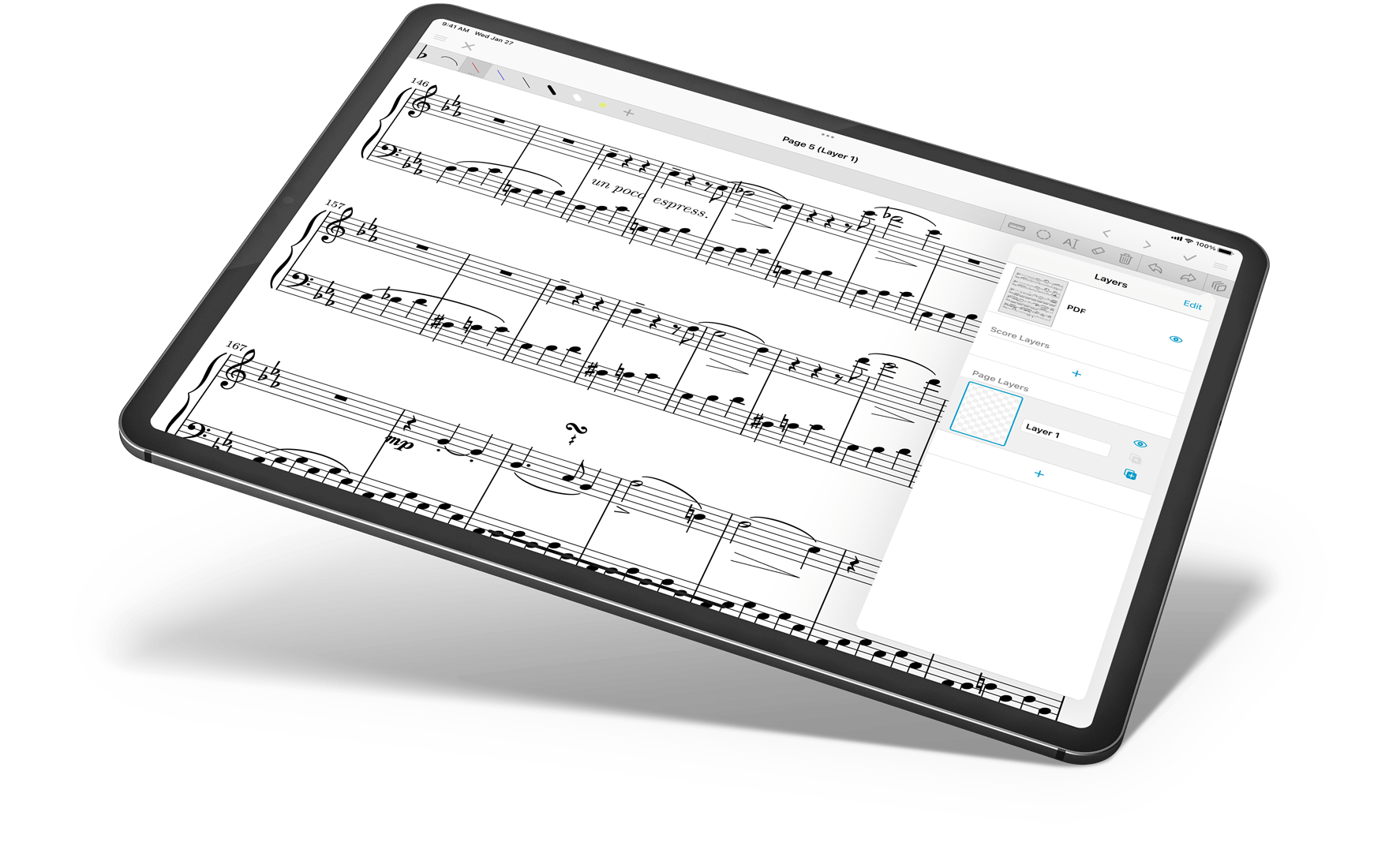 Take things to the next level
forScore packs in everything you need to join the digital sheet music revolution. Just one up-front purchase and you're set, armed with the world's most advanced sheet music reading app and free updates for life.
When you're ready for even more, we've got you covered there too. Subscribe to forScore Pro for early or exclusive access to our newest or highly specific features and personalized support when questions arise.
forScore Pro is an optional, auto-renewing subscription that's available for users running forScore 11 or later. It costs $9.99 per year (in USD, prices in other currencies are set by Apple and vary by region). Benefits of subscribing are outlined below and are subject to change without notice or refund. Visit forScore.co/terms-of-service for complete terms and conditions.
forScore Pro is:
an optional subscription
a collection of advanced features
an expanded support service
a way for you to support future development
forScore Pro is NOT:
a separate app
necessary for normal usage
required for self-guided support
a paywall for all new features
Support
Tools Menu ›
Support ›
Feedback & Support
Subscriptions are great for allowing developers like us to offer ongoing services that a single, up-front purchase can't otherwise justify. There's no better example of that than customer support, and with every release and feature addition our app gets more and more complex—while we're always happy to help any way that we can, it's impossible for us to provide personalized support for all customers in perpetuity.
If you need help with something that's not covered in our documentation, forScore Pro allows us to spend more time working with you to answer your questions and make sure you're getting the most out of forScore. Just choose "Support" from forScore's Tools menu, tap "Feedback & Support" (or "Contact Us" in older versions) and use the pro support function there to get in touch with us.
Face Gestures
Tools Menu ›
Settings ›
forScore Pro ›
Face gestures
If your device supports face tracking, you can use facial gestures to turn pages—by turning your head, winking, or by moving your lips to the left or right. Choose whichever mode works best for you, and adjust their sensitivity in the forScore Pro section of forScore's settings panel or take advantage of the automatic calibration method for easy setup.
To determine whether your device will support facial tracking before you subscribe to forScore Pro, update to forScore 12.0.6 or later and open the Tools menu, choose Support, then tap "Device Information." Here you'll be able to see which system-level features are supported on your current device (and OS version) and view or manage which kinds of sensitive information forScore may use to provide all of its features.
Pop-up Menus
Tools Menu ›
Settings ›
forScore Pro ›
Pop-up menus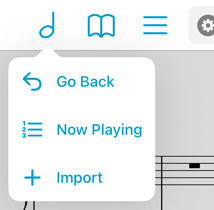 The six primary buttons in forScore's title bar are an essential part of working with the app. Pop-up menus let you quickly perform common tasks related to each of these items by using one continuous gesture: touch the button and drag your finger downward to see a list of shortcuts. Keep dragging your finger until it's hovering over the item you need, then let go to activate it.
The main menu's pop-up options allow you to quickly return to the last score or page you were on, or to access the Now Playing queue. Use the Bookmarks button to create a new bookmark. If you're playing from a setlist, the Setlist button's shortcuts let you edit it or navigate between items.
The Search button shows your most recently viewed items, while the metronome and pitch buttons give you instant control over mode/playback. Access up to five pinned and/or most recently used tools (swipe over an item in the tools menu to pin or unpin it).
While in annotation mode, pop-up menus let you quickly adjust the size of stamps, shapes, drawing presets, and the eraser. They also allow you to switch between layers or change the selection tool's mode (freeform and rectangular).
Page Copy & Paste
Annotation Mode ›
Layers ›
PDF layer
Each page has a single annotation layer by default, but forScore Pro subscribers will also see an additional "PDF" layer at the top of the Layers list for every page of a score. This layer works much like other layers do, but with one important distinction: when you use the selection tool's Copy or Cut actions, forScore copies any annotations on that layer as well as the contents of the page itself. This allows you to move measures around or copy and paste them between pages to better suit your needs.
Profiles
Tools Menu ›
Settings
Whether you share your iPad with another musician or have different needs when performing versus practicing, settings profiles offer a great solution. Create multiple profiles to tailor your settings to every situation—switch back and forth between profiles and they'll be updated and restored instantly.
More Stamps
Annotation Mode ›
Stamps :
Swipe left or right to scroll between stamp sets
A second page of stamps gives you a wide range of options for most of your annotation needs. This stamp set is read-only (so it can be updated and expanded more easily in the future), but if you use one frequently or need to customize it to better suit your needs, tap the action icon to copy it to your personal collection.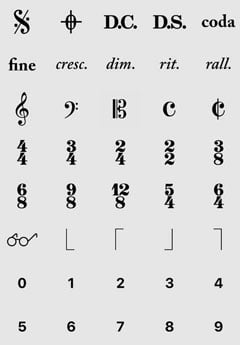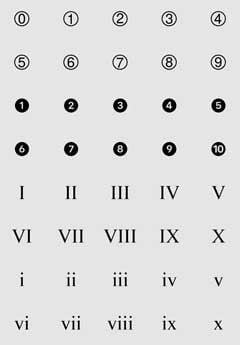 Apple Pencil Hover
Tools Menu ›
Settings ›
Apple Pencil
On iPads that support Apple Pencil hover detection, forScore Pro unlocks additional features: while hovering, you can use customizable pinch, swipe, and tap gestures to resize or cycle through presets, undo or redo drawings, or show a rotary preset picker that lets you quickly switch to a different annotation tool.
App Icons
Tools Menu ›
Settings ›
App icon
Exclusive app icons let you personalize your home screen and show off your support. (This is currently a forScore Pro feature, but if you purchased any of the older "voluntary upgrades" you'll also have access to these icons).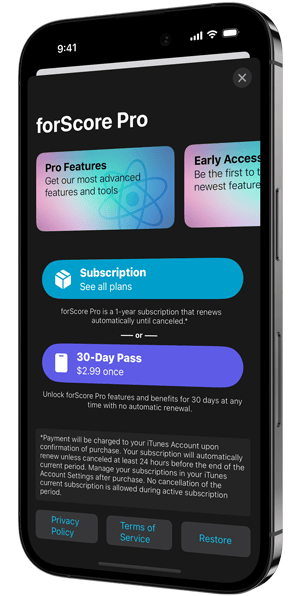 Access & Management
Note: forScore 14 introduced a forScore Pro pass that gives you 30 days of access to forScore Pro features with no auto-renewing subscription. This option is not available in or compatible with previous versions of forScore.
The forScore Pro subscription panel is where you can learn more about the service, become a pro member, or restore your existing purchase. It can be accessed in several places throughout the app, but the easiest place to find it is in forScore's Settings panel. Open the tools menu, choose Settings, and then tap "forScore Pro." (If you're currently subscribed to forScore Pro, this item shows a list of options related to forScore Pro features—tap the "Manage Subscription" item at the top of this list to see the subscription interface).
If you don't currently have access to forScore Pro, you can tap one of the options available here to unlock forScore Pro features. If needed, tap the Restore button in the bottom right-hand corner to restore any existing purchases. If you previously had access to forScore Pro features, the text below this button will tell you when your subscription or pass expired.
Learn more about managing your subscriptions by visiting this Apple support article.