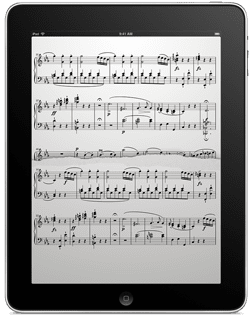 This month marks ten years since we debuted forScore 1.0 and started a decade long journey that has taken us places we never could have expected. We've been incredibly lucky to be able to do what we love for so long, and to have a huge audience of musicians who not only enjoy using our app, but who energize and inspire us with their feedback, encouragement, and support.
We had planned on pulling together a playlist of songs made using forScore, interviews with musicians, and stories from our users across the globe. Now that April is here, that honestly doesn't feel like the right way to celebrate. Like most of you, we're facing tougher times right now—both professionally and personally—and it feels inappropriate to look back on the last ten years through today's heavy lens.
Life carries on, though, and we're continuing to work harder than ever to make forScore the best it can be. We know there's a lot left to chart with the future of our app, so we took some time to commemorate this anniversary with an update to the retrospective site we put together five years ago. We added a few chapters not to rest on what we've done but to be able to look back another five or ten years from now and see how far we've come.
There's plenty of music left in this world, and we're grateful to have been a part of this journey so far with you. Thank you.