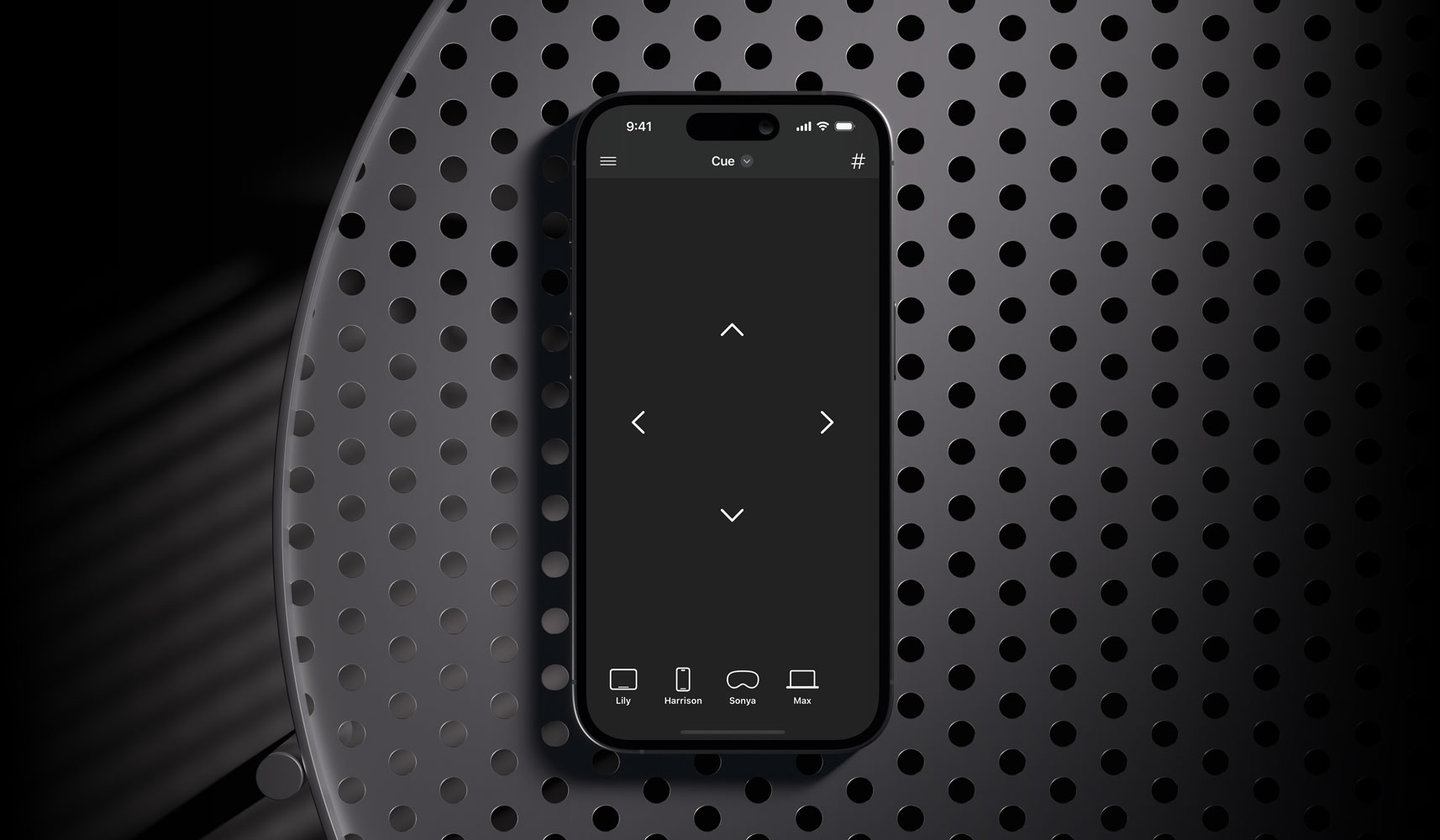 Wireless page turns and more
Based on forScore's popular remote control protocol, Cue enables easy wireless page turns, program changes, and remote monitoring from one iPhone, iPad, or Mac to as many as 15 other nearby devices running forScore. And now, with Dual Page mode, it turns your Mac, iPad, or iOS device into the ultimate forScore companion.
Learn More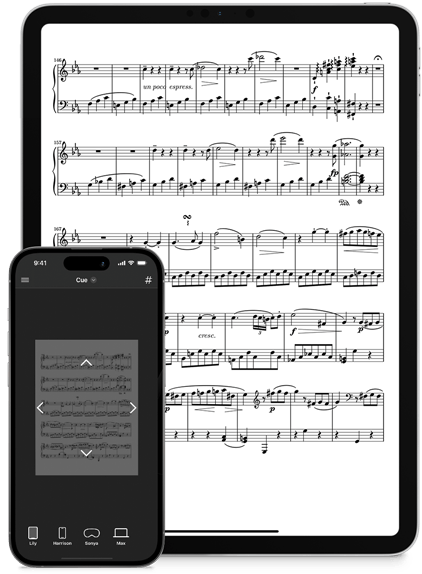 Remote Control
Cue, the popular coordinated page turning protocol first introduced in forScore 6, lets groups of musicians work together by designating a leader who navigates between scores and turns pages at just the right moment, and other users whose devices can follow along automatically. The standalone Cue app brings this functionality to almost any Mac, iPad, or iOS device—even if forScore isn't installed on it.
With the Cue app open on one device, nearby musicians can activate the Cue function in forScore on their end. Available devices appear along the bottom of the Cue app, and connecting is as simple as tapping on it. Use the arrow buttons to advance as needed, and each connected device will follow along wirelessly.
That's not all, though—the Cue app lets you remotely monitor a device's screen and follow along as they play, ensuring perfectly-timed page turns even from the audience, for example. Just tap on a connected device's icon to view its screen, tap again to turn it off. No hovering, just timely assistance from a comfortable distance.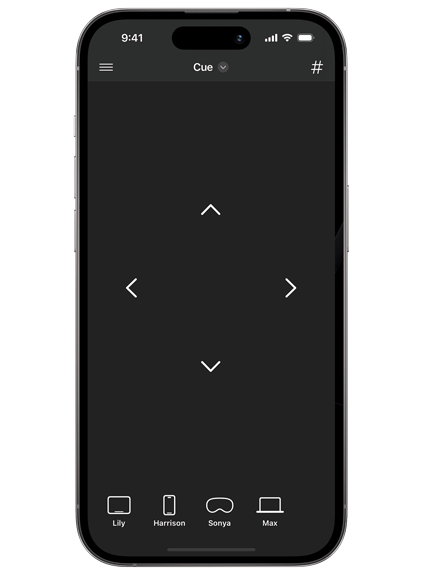 Controls
Cue's main controls are a group of arrow buttons that let you navigate. The left and right arrows turn pages, while the up and down arrows perform slightly different tasks depending on the orientation and configuration of each connected device: in landscape mode, they scroll to the top or bottom of the current page if needed.
For devices that are being used in portrait orientation, these arrows control half-page turns—but only if the target device has those kinds of turns enabled.
It's easy to tell if a connected device is being used in portrait or landscape orientation: the corresponding icon at the bottom of the screen rotates when they do, so you'll always know what to expect when using these up and down arrows to navigate.
And when you need to get to a specific page quickly, just use the number symbol in the top right-hand corner of the screen to type it in and press "go."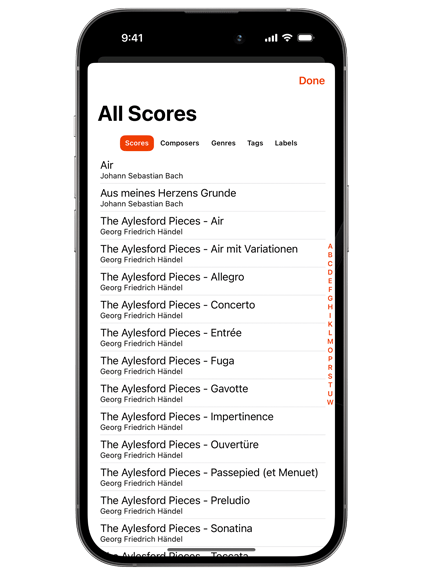 Content
When using Cue within forScore, navigating to a different file opens that same PDF on every connected device if they have a copy, and offers to send them one if not. The standalone Cue app doesn't have its own music library, so we had to come up with a different way of working with files in this situation.
The button in the top left-hand corner of the screen lets you view and select any file that already exists on all connected devices. So if you're only connected to one other device, you'll see its complete library, but when you're connected to two or more devices you'll only see the files they have in common.
You can type to search for a particular tune within that list, or you can browse by composer, genre, tag, and label instead. When you've found what you're looking for, tap on it to immediately direct all connected devices to that piece.
Dual Page Mode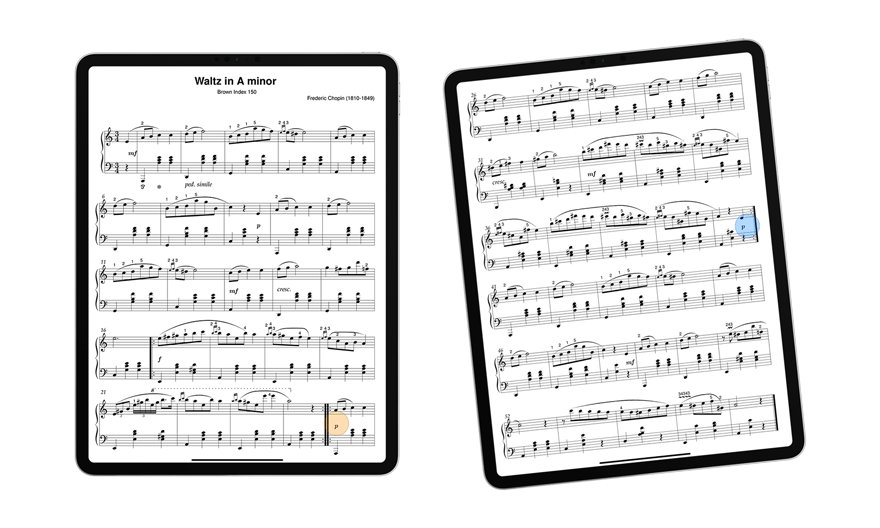 Most things are better when you're using digital sheet music, but one thing smaller devices can't do as well is show two pages at once. Two-up view makes the most of your screen in forScore, but the pages end up much smaller than you're probably used to. With Cue 1.4 and forScore 10.2 we've created a new solution to this problem called Dual Page mode.
Dual Page mode lets you use forScore on one device and Cue on another device to display two full-sized pages simultaneously. Your page and its annotations are sent wirelessly to the nearby device as you navigate, and tapping or swiping turns two pages at a time—just like a book. You can tap or swipe on either screen to turn pages, allowing you to navigate naturally. Dual Page mode even supports links and buttons, so you can tap on them no matter which side they're on and they'll work just like you expect.
Cue for Mac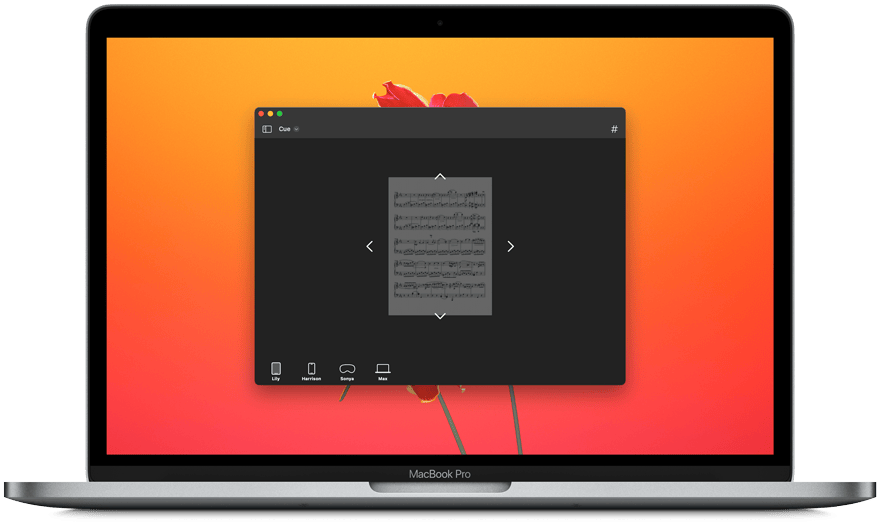 Available now for the Mac at no additional charge, Cue brings everything you love about the mobile version to the big screen. From screen mirroring to dual page mode, it's the exact same feature set on a whole new platform with robust support for keyboard shortcuts and Mac exclusives like the menu bar and the touch bar.

Available now.
Cue is available now on both the App Store and Mac App Store as a single universal purchase, allowing you to install and use it on up to ten of your Apple devices at no additional charge. Cue is available for iPhone, iPad, and Mac. Cue requires iOS 14 or later, iPadOS 14 or later, and macOS 11 or later. Cue works in conjunction with forScore 6.1 or newer (sold separately). Dual Page mode requires forScore 10.2, a free update. Cue and three of our other utilities are also offered as a bundle, the forScore Music Box.