forScore 11.
2
Available Now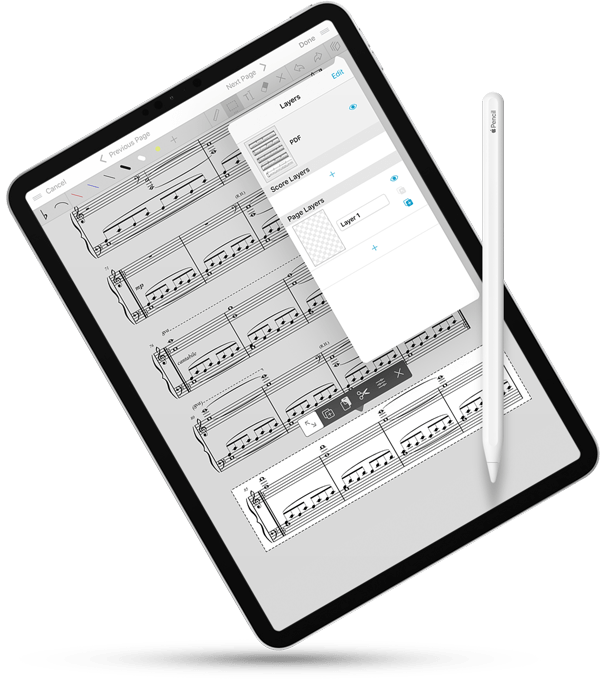 Music in
motion
Your sheet music library is a living collection, not just a static archive. There's always something new to play, or a different way to interpret a song you know by heart. Music is dynamic, personal, and constantly evolving.
Potential grows with curation, variation, and adjustment. Say hello to the new tools that will help you get there. Get ready to move forward with forScore 11.2.
Crop
Introducing an entirely new crop interface, built for an unprecedented level of precision, power, and ease of use. Drag and pinch to reposition your page—the speed control on the left lets you adjust how sensitive these gestures are so you can start with 1:1 manipulation and then slow things down to make those last few tiny adjustments without worrying about the page jumping around when you lift your fingers.
Or, just let forScore find the best placement for your page. Straighten it with the updated de-skew control, if needed, and use the optional guide to see where your page will end up in both portrait and landscape orientations. Enlarge or reduce the page (making sure pages look their best when viewed in landscape).
You can even edit all pages of the current score at once: crop automatically, crop using the current page's position and zoom, or uncrop everything.
Virtual Sheet Music
We've teamed up with Virtual Sheet Music to give you easy access to your purchases directly through forScore. Great content is essential to a great forScore experience, and we couldn't be more excited to welcome Virtual Sheet Music to our growing list of amazing partners.
Musicnotes Transpositions
You can now download your Musicnotes purchases in any or all available keys at no additional charge. Get the version you need, in seconds.
Automatic Downloads
Access a content provider in forScore's services panel and enable this per-directory setting to automatically find and download new content you purchase through that provider's website in the future.
Pitch Pipe
forScore's pitch pipe features an all-new continuous playback mode that lets you hear your note for as long as you need, without interruption.
The first time you enable it, you'll be prompted to download a small sound bank file that we created specifically to sound great when looped.
When the pitch pipe is set to use continuous playback mode, you'll find two new instrument options—strings and horns—that replace the normal clarinet and piano choices (tone remains available in either mode).
Buttons
When you create a button that plays a pitch, you can now specify whether to use the same sound bank as the pitch pipe, or choose a specific sound bank instead (including the new continuous options, if already downloaded). Each button saves its own preference, so you can choose the best sound for each situation.
Shortcuts
The "Select Control" and "Activate Control" shortcuts let you use links or buttons without reaching up and touching the screen. If you only set up Activate Control, forScore selects and activates the first link or button on a page.
Now, with forScore 11.2, you can use Select Control on its own: use your accessory to switch focus between the various links and buttons on a page, then forScore will activate the focused one after a short delay.
Spotlight
Apple's whole-device search functionality lets you instantly find content right from your home screen, no matter which app or website it comes from.
Now, you'll find your forScore setlists, scores, and bookmarks within those search results so you can jump straight into your music at any time.
forScore indexes your library efficiently and expressively, giving you smarter results that are always up to date and more flexibility than ever when it comes to finding exactly what you need.
Cursor Support
If you're using a trackpad or mouse with iPadOS 13.4 or later, you'll find that forScore easily transitions between input methods. Most things work just like they do when you're using touch, but there are a few new things too.
Pinch to zoom, scroll or pan, and use secondary clicks to access contextual menus throughout the app. Scroll while hovering over certain controls (like the page selector, metronome and pitch pipe dials, the media box's loop controls, and the new crop interface's de-skew control) to adjust them quickly and precisely. You can even swipe left and right on a trackpad to turn pages.
It's hard to do justice to a whole new input method with just a few short paragraphs, though, so be sure to check out our new info page for complete details on everything you can do with iPadOS 13.4 and forScore 11.2.
Smarter Sorting
For years, forScore has offered "smart sorting" to ignore common prefixes like the, a, and an when alphabetically sorting your scores, bookmarks, or other files. Now, that logic can also be applied when sorting your categories and setlists: use new options in forScore's settings panel to control when to use smart sorting or not.
File Management
By default, when you change a score's title forScore updates your PDF's filename to match it as closely as possible. For people who prefer to organize their files differently, there's a new setting to control this within the "advanced options" section of forScore's settings panel.
If you take advantage of this setting, a new "rename" contextual menu option becomes available in the Score menu so you can rename files if needed and manage your library your own way.
Annotation Gestures
In forScore's settings panel, under Gestures, you can now choose to enable two new options specific to annotation mode: undo with a two finger tap, or redo with a three finger tap. Enable either or both for instant access to these two key functions whenever you're annotating.
Selection
The selection tool includes a new Cut action so you can copy and clear a portion of your annotations in one step.
The Adjust action now preserves both opacity and brightness so you can adjust your drawings, stamps, and images without turning light backgrounds into solid blocks of color.
Both of these upgrades are great on their own, but keep reading below to see where they really shine.
forScore
Pro
Page Copy & Paste
PDF files aren't designed to be edited, but when you need to quickly move measures around or combine pages to eliminate turns, forScore 11.2 is ready to help.
Every page now features a new "PDF" annotation layer that mostly behaves like any other layer: draw on it, add text annotations, or show and hide it. (Use the Layer button's new pop-up menu to quickly switch between them.)
But when you use the selection tool, the PDF layer becomes a lot more useful. Copy or Duplicate the contents of your page, then alter their appearance if needed using the newly improved Adjust function.
When you use the selection tool's new Cut action on this layer it automatically determines the page's background color and fills in that area, effectively removing it from the page so you can paste it somewhere else.

Available Now.
forScore 11.2 and all of these amazing upgrades are available now, absolutely free for all existing users. Get it today on the App Store, and be sure to check out our news page or use our RSS feed to follow our latest news and announcements.