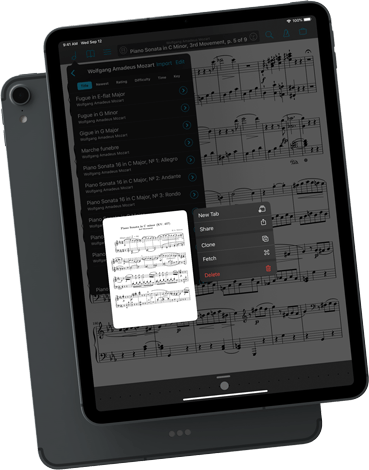 Today we're very excited to give you a sneak peek at our next major version of forScore, version 11.1. This free update packs a lot in, thanks in part to the hard work Apple is doing to push iOS forward. From dark mode to contextual menus, we've adopted the latest and greatest enhancements and spent months tweaking things to get them just right in time for iOS 13's release, most likely coming next month if history is any indication.
We're jumping in on day one with iOS 13, but all users will benefit from many other great enhancements like expanded keyboard shortcuts, copy and paste support for annotation layers, and the ability to switch annotation tools with Apple Pencil 2's double tap gesture even when you're not in annotation mode.
There's even more for forScore Pro subscribers, though: users with a device sporting Apple's TrueDepth camera system can put those sensors to good use with our brand new face gestures that let you turn the page with head or mouth movements. It's not an experimental feature, these gestures are powered by a highly refined system designed from the ground up to work for a wide range of musicians. We can't wait for our Pro subscribers to try it out.
Check out all of the new features here and, if you're able, consider becoming a beta tester to try out early versions and help us work through any remaining bugs that pop up as Apple continues testing and rolling out their own updates.
Thanks to all of our customers for helping us create the best version of forScore yet, we can't wait to release it and other exciting updates later this year!