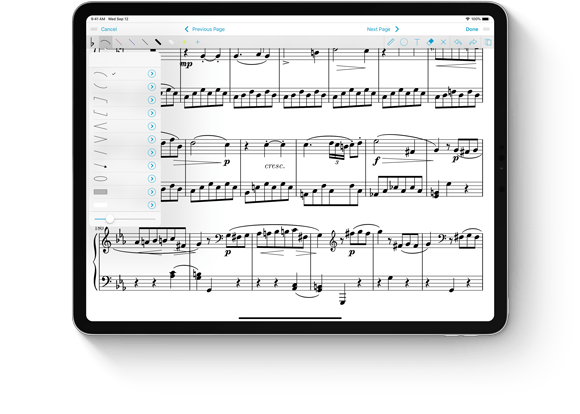 We're back, and what a week it's been! Apple's latest iPad Pros are available now, with their expansive screens and gorgeous new design. We updated all of our apps on Monday for these new devices, so you'll be ready to jump right in if you're upgrading.
Apple Pencil got an upgrade too, and forScore is ready to help you take full advantage of its new double tap gesture. In iOS' Settings app, you can choose how this gesture should work in general, with options called "switch between current tool and eraser," "switch between current tool and last used," "show color palette," or "off." App developers are encouraged to follow these guidelines as closely as they can, ensuring that the results of a double tap remain intuitive, but Apple lets developers decide how best to apply these concepts to their own apps.
While annotating in forScore 10.5, the first two options work as you might expect: double tapping your pencil switches between the currently selected tool and the eraser, or between the current tool and the last used tool. Since forScore doesn't have a universal color picker for each of its tools, the third option opens the current tool's detail view instead, if applicable. If the Stamps tool is selected, for instance, double tapping shows the Stamps palette, or if a drawing preset is selected it opens the preset editor. If you prefer, you can turn off support for these gestures by choosing "off" in the Settings app.
When you're not in annotation mode this gesture does nothing by default, but you can change that if you prefer—open forScore's settings panel and choose "Page Turners & Shortcuts" to select a common tool or action, then double tap your Pencil to associate that action with the new gesture.
Some people think app developers get advance knowledge of major hardware changes, and while that can be true for some of the biggest names out there, in most cases developers like us only find out about new devices the same time you do. Sometimes they're released the same day they're announced, and other times we get a few days to get ready. It's a mad rush each time, but we work very hard to support each new iPad on day one and we're proud to say that's true this time. We love music and we love new iPads, and if you're in the market for one of these devices we think you'll be very happy with your upgrade.