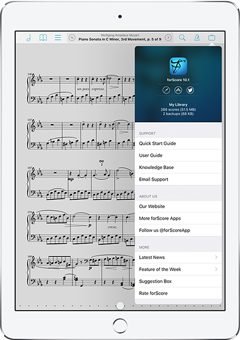 After last week's monolithic feature on forScore and Apple Pencil, today we're taking a breather with a quick look at the Support section of forScore's tools menu. We redesigned it with forScore 10.1, and it includes a few new things of note.
The top section doesn't just look different, it includes quick links to our website, to all of our apps on the app store, and to our Twitter account. Each of these is also featured in the list below, which has been reorganized and expanded to better address our users' most common needs.
You can get help by checking out the quick start guide, user guide, our knowledge base, or by emailing us directly. You can also use the links we just discussed to learn more about forScore at our website, see our other apps, or follow us on Twitter. Finally, you can stay up to date with inline versions of our news and feature of the week sections (hey, that's us!), send us your suggestions, or rate us on the App Store (it really helps).
Now that this panel includes more news and general information, it's really more than just a "support" section, so we added an "About forScore" entry to the bottom of the settings panel that also opens it. For anyone needing to know which version they've got, this is a pretty logical place for them to look. We still want to make sure that these important resources are readily available to anyone who needs help, though, so we've kept the "Support" item in the tools menu as well. Both options get you to the same place, so it doesn't matter which one you pick.