September 13, 2016
| News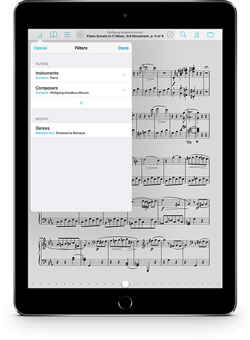 Today we're extremely proud to announce the release of forScore 10.1 and forScore mini 3.1 on the App Store. These updates add some key new features like Filters, which let you browse more effectively by cross-referencing your metadata categories with advanced rules. They improve support for iOS 10 by doing things like reworking the style and layout of the pitch pipe widget. They add a new option to hide the status bar, giving you the clearest view yet of your music.
And, on iPad, forScore adds a setting to automatically exit annotation mode after a short delay, putting an important capstone on our Apple Pencil support and realizing the possibilities of a completely mode-free annotation experience.
These updates are completely free for existing users, as always, and we think they're really going to take things even further. For newcomers, forScore is still just $9.99 (USD) and forScore mini is the same $6.99, so now is a great time to check them out if you haven't had a chance to already.
Available now for iPad
Available now for iPhone and iPod Touch