September 19, 2017
| News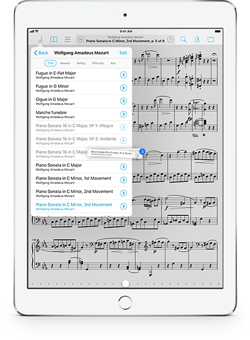 Today we're incredibly proud to announce the release of our latest big updates, forScore 10.3 and forScore mini 3.3 on the App Store. These versions are fully compatible with iOS 11 and bring support for some of its most anticipated features like Drag and Drop.
We've said it before, but Drag and Drop is huge. If you haven't seen it yet, be sure to check out the video. That's the biggest new thing, but there's a lot more than that so head over to our feature page on everything that's new in 10.3 if you haven't had a chance to do so already.
These updates are completely free for all existing users, as always, so visit the App Store today to get your hands on them. We'd like to take a moment to thank our beta testers for lending us their time and providing valuable feedback, and to thank all of our customers for your continued support and passion. We couldn't do it without you.
Available now for iPad
Available now for iPhone and iPod Touch