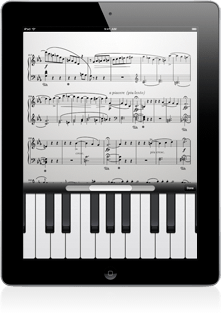 We're very excited to announce the immediate availability of forScore 3.2, an update that's packed so full of improvements that we can only cover a few of the biggest highlights here:
We've begun localizing our app, starting with Dutch, French, and Chinese. We'll be adding support for other languages as quickly as we can, so check out this page if you'd like to help. We've widened the menus and changed the way the sort/search bars work to make room for these translations, and we've made a lot of other minor adjustments to overall legibility and accessibility.
We've also added a piano keyboard so you can work through tricky measures on the go, we've simplified our settings panel, and we've added a sepia tone option for the main score view. There's a lot more, too, so be sure to check out the full list on the App Store where forScore 3.2 is available right now for just $4.99, or absolutely free for existing users.