September 19, 2013
| News
From the moment iOS 7 was introduced, it was obvious that this would be a big year for Apple's mobile OS, and for us. We jumped right in with the first beta, and we've been working with it for several months to create our next major update to forScore, version 6. Today, we're very excited to give you a sneak peek at it and the future of forScore.
More than just a fresh new skin, forScore 6 is a brand new incarnation created exclusively for iOS 7. It showcases iOS' natural aesthetic in both design and experience with layered views,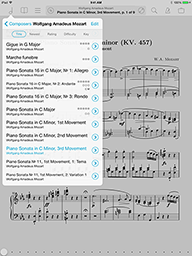 delightful animations, cleaner visuals and an even greater focus on what matters most—your music. But even without these changes, forScore 6 would be a big update, bringing some incredible new features and enhancements to the strong foundation we've created over the past several years.
We focused heavily on enhancing forScore's organizational power by adding two new metadata types, key and time, and by introducing libraries for big-picture management of your music collection. Work with only the scores you need and hide the rest—great for musicians who play in several bands, for educators with multiple students, or for musical families with a shared iPad.
Collaboration is another key area for us, and we wanted to make it even easier for groups to stay on the same page. With Cue, one member of a group can open scores and turn pages while the rest follow along automatically, keeping up with program changes and/or page turns. If one member doesn't have a particular piece, the leader is notified and can share it with a single tap.
Another big new feature solves a problem we've been mulling over for some time now. No matter what Apple does with iTunes file sharing, or how they improve the iPad's virtual keyboard, our customers still long for an easier way to add scores to forScore and to edit metadata from the comfort of their keyboard and mouse.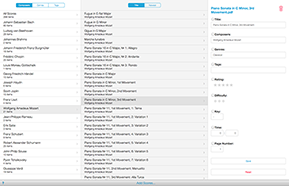 A desktop application could help, but would require a tremendous amount of time and effort to develop and support. Instead, we created an innovative app-hosted web interface that's easy to use, totally secure, and compatible with far more computers than we could have supported otherwise. It's quite a treat, and we think it's the perfect solution to a complicated problem.
And finally, something we've been working hard on for some time now: support for embedded PDF annotations. Tap on links to websites or other pages of your score and view all kinds of annotations and comments made on a computer. This includes markup annotations (like highlights and underlines), shapes, freehand drawings, text, and more. It's an important feature, and we're proud of the work we've done to finally make it a reality.
That's just the beginning, though—forScore 6 includes all kinds of enhancements that really shine: tint stamps on the fly, add multiple audio tracks to a score, perform common actions with keyboard shortcuts and extra page turner pedal presses (great for use with AirTurn's 4-pedal options), or count in with the metronome's new auto-shutoff feature. It's a packed update, and we're very excited to release it just as soon as it's ready and fully tested. Stay tuned!