Four years ago this month we released forScore 1.0 with the promise of much more to come and free updates for life. It's been an incredible journey, and no one could have predicted just how far we'd come with a lot of hard work and the enthusiastic support of our amazing customers, but we're nowhere near finished: today we're proud to introduce forScore 7.
forScore 7's array of improvements begins with audio. Now, you can link locally-stored audio files to your scores (any file that's currently playable by Apple's audio frameworks will work, including MP3, AIFF, AAC, ALAC, WAV, and M4A files). Add these files from your computer, download them via Dropbox or the in-app browser, or import them from apps that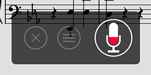 use iOS' "Open in…" feature. We've also added a new recording feature, so you can review your practice sessions or share them with friends and colleagues. Both recordings and linked audio files can be slowed down and played back at three quarter or half speed.
Our new Replay feature lets you automate page turns with an audio track: just listen to the song once and turn pages as needed, then watch as the pages turn themselves on subsequent plays. It's a great hands-free solution for musicians using backing tracks.
We've significantly overhauled Rearrange with forScore 7, adding powerful new features while refocusing on ease of use and making interaction much smoother and more direct. Pages can be dragged around without tapping and holding first, page duplication is now a single tap,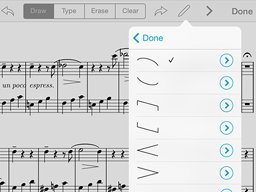 and undo makes it trivial to recover from accidental page deletion. You can now also split files into separate sections and drag pages between them as needed, using "Save As…" to export them as sequentially-numbered files.
The new "Shapes" section in the drawing menu makes it easy to add dynamically-sized elements to your page. Draw slurs, ties, tuplets, crescendos or lines and make them as big or small as you like, or easily block out entire sections of a page with the rectangle tool. Each shape can be tinted independently, and line width can be adjusted with the standard pen resizing control when applicable. We've also added some new stamps so you can easily add notes to a page.
If you use text-based documents, forScore 7 makes your workflow much easier with automatic conversion of TXT, RTF, DOC, and DOCX files. Add these files from your computer, download them via Dropbox or the in-app browser, or import them from apps and they'll be converted into PDF files for you.

With the addition of these great new features, quick access to the ones you use the most is even more important. That's why we've added a second page of tools to the title display in the toolbar along the top of the page. Swipe left or tap the arrow button to see all of these tools, and use the edit button to choose which two flank the current score's title.
All that and more is available today on the App Store as a free update for all existing users and still just $6.99 for newcomers. We're very excited to share it with you, and thanks as always for your support—we couldn't do it without you!