We're releasing a big update to forScore later this month, and this is the third in a series of in-depth looks we'll be posting as we count down to its release. If you haven't had a chance to yet, be sure to check out forScore 8's new media box and tuner. That's just the start, though, and today we're really excited to unveil our next big thing. But first, a little background:
Bluetooth Smart, or Bluetooth LE is an extremely lightweight version of the same wireless technology that's been around for years, but it uses a fraction of the power meaning both your peripherals and your iPad will last longer between charges. With forScore 8, we've added a centralized hub for you to connect to and manage certain peripherals that use this technology, a new "Devices" panel that you'll find in the tools menu.
At launch, we'll support IK Multimedia's iRig BlueBoard, FiftyThree's Pencil, and Adonit's Jot Script. Of course, forScore already works with the iRig BlueBoard, but it currently requires an intermediary app to be running in the background.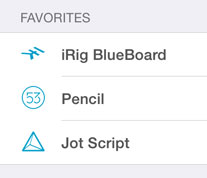 Now, you'll be able to skip that step and connect directly to this great page turner featuring four backlit pedals, two auxiliary ports, and long battery life.
We also knew from the start that we wanted to support some of the great stylus options out there. We began by working with Adonit and FiftyThree's SDKs (software development kits), but realized that using them would quadruple forScore's size and limit our ability to fix any issues that might arise. Instead, we sat down to create our own solution and ended up with something that worked similarly but only took up a tiny fraction of the resources.
It was a tough choice to make, since we know people buy these devices expecting a uniform experience across compatible apps and that we'd be giving up some of the benefits of having a more formal partnership with these companies, but ultimately we'd rather make forScore the best product it can be and we think this is how we do that. Now you'll get an even better drawing experience, palm rejection so you can draw and write more naturally and, if you're using the Pencil, just flip it around to erase like you would with a real pencil—it's a real treat to use.

Be sure to check back with us soon, because great stylus support is just the first half of forScore 8's brand new annotation experience.