Next month we'll be releasing our next big update, forScore 8. Instead of our typical "sneak peek" that packs in brief descriptions of all of the biggest new features, this time we'll be posting a series of more focused updates so we can give each new upgrade a little more attention. We're starting with a big visual update in forScore 8: the media box.

Instead of the old fixed-width black box, forScore's new media box spans the entire width of the screen in both portrait and landscape orientations, giving you better precision when seeking or setting loop points. With forScore 7 we introduced the ability to slow down audio files, and with forScore 8 we've now extended that feature to work with tracks from your iTunes library as well.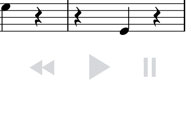 The media box still appears and disappears with the rest of forScore's controls, but now you can slide it down and out of the way (replacing the old collapsed artwork-only mode). We've also added an option to the settings panel that makes the rewind, play, and pause buttons mostly transparent and keeps them on-screen at all times.
It's a great new experience, and it's just the start of what's coming in forScore 8. We're very excited to show you some of the other great new features and improvements we've made, so be sure to check back soon as we count down to release day!