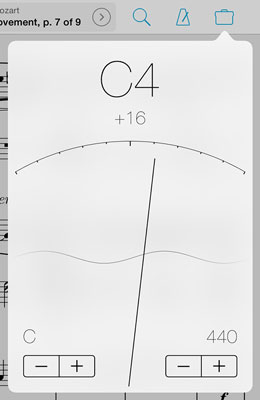 Our next big update is coming later this month, and we're exploring some of the biggest features and enhancements in a series of posts that began with last week's feature on the new media box. Today we're taking a look at something entirely new, a built-in tuner.
This new tuner is a no-nonsense utility that feels right at home with forScore's pitch pipe and metronome, and uses a beautiful sine wave animation to give you a visual sense of focus by reducing amplitude as you zero in on your note. You can transpose if you're using an instrument that requires it, and you can adjust the base frequency to fit your needs.
We think it's a great new addition to forScore's toolbox, and just one of the exciting new upgrades we'll be unveiling over the next few weeks. Be sure to check back soon for more!