We're working hard to get forScore 9 ready for release this summer, and today we want to give you a sneak peek at a big new feature called Dashboard.
Dashboard brings a whole new level of personalization to forScore, and we've never done anything like it. If you allow it, Dashboard notes which scores, bookmarks, and setlists you view and for how long. With that information, it can do a few interesting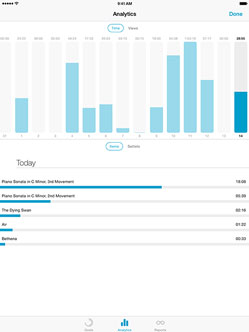 things that give you valuable insights into your playing habits and help keep you on track.
The Analytics tab of the new Dashboard interface gives you a clear overview of your usage. It can display items (scores and bookmarks) or setlists, and it can show the number of times you viewed them and for how long. A timeline totals these statistics for each of the past ninety days, and you can tap on any day to see which items or setlists you played, ranked by time or number of views. You can even tap one of those items to see how often or how long you played it over the past ninety days.
The Reports tab allows you to create templates and generate PDF reports based on certain criteria, such as unit of time (day, week, or month), length of time (e.g. the past three weeks), and whether to show items, setlists or both. They can be item- or setlist-specific, or they can show everything. Once you set up a report template, you can quickly generate a PDF with just a tap and share it with your colleagues or an instructor.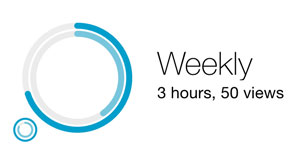 The Goals tab allows you to create goals and track your progress per day, week, month, or all-time. The main view gives you a quick overview of your progress towards each of your goals, and you can select one to edit it or show more detailed information. A timeline along the top shows your statistics for each day, week, or month, and you can tap any of them to share your results with friends or colleagues via email, iMessage, Twitter, Facebook, and more. It's a lot of fun, and brings an entirely new shared experience to forScore.
These tools provide a whole new level of personal accountability and can help you make meaningful progress based on real numbers. We've never collected this kind of information before, so we're being extremely careful about maintaining our customer's privacy. That's why forScore only tracks your usage if you explicitly allow it to do so, and never shares that information under any circumstances—it's stored locally on your device and never transmitted anywhere.
All of this is coming this summer with forScore 9, along with our new Buttons tool and consolidated audio utilities. That's not all, though, so check back soon for even more!