Our sneak peek at forScore 9 continues today with a look at some big changes coming to the metadata panel and menus. Of course, metadata is a huge part of forScore; it's what allows users to work with thousands of scores without getting bogged down by endless lists and similar names.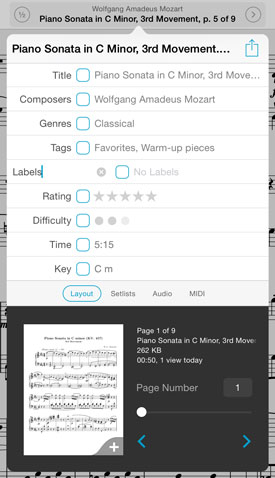 There are a lot of ways you can sort, separate, and search for your scores, but many of our users want something more. Some need an 'arranger' field, while others would prefer a reference number or year. Unfortunately, there are only so many different pieces of information we can make room for before things start to get unusably complex. That's why we're doing two things that we think will really help.
First, we're adding a new top-level category type called 'Labels' which can be used to add comma-separated values to your scores just like you can now with composers, genres, or tags. Of course, 'labels' is a pretty generic name and that's by design because of the second big change we're making.
The Genres field has always been customizable if you knew where to find the option near the bottom of the settings panel. It's something we added long ago, but it never quite felt like enough. Now, we're making most of forScore's metadata fields renameable and you no longer have to venture off to the settings panel to do so. Just tap on the name of a field to change it. That includes composers, genres, tags, labels, rating, difficulty, time, and key, so now you can set everything up just how you like it.
That's not all, though; we've put a little extra bit of info down at the bottom of the metadata panel in the Layout section. You'll still see the current and total number of pages, but you'll also find the current item's filename, file size, and usage statistics (if you've allowed the new Dashboard feature to collect that information). You can tap the usage text to cycle through your totals for today, this week, or this month. If you're viewing a score you'll find the page offset field and margin adjustment slider, and if you're viewing a bookmark you'll be able to edit its start and end page number.
We know there will always be people who want more fields and people who use few or none of them. We think this is the best way to provide additional capabilities without sacrificing clarity and usability, and we think it'll make a big difference for many of our users. All that and more is coming soon with forScore 9, so stay tuned!