Our next big update is just around the corner, but we still have one last sneak peek to share with you. If you haven't had a chance to check them out, be sure to read our other sneak peeks unveiling our new Buttons tool, combined audio utilities, Dashboard, and big metadata updates.
Stamps are a big part of what makes forScore's annotation capabilities so unique and robust, and although we include a bunch of symbols by default, the most powerful part of the Stamps feature is your ability to create custom stamps. You can draw them with your finger or you can use an image, but until now you've had to use iTunes on your PC to transfer the image to forScore's documents directory first. Now, with forScore 9, you'll be able to import images directly from iOS's Photos app. That means you can use an app like Safari to find an image,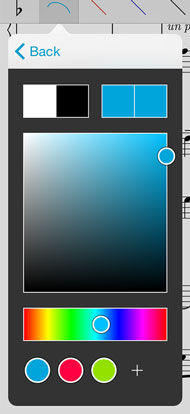 save it to your photo library, then use the stamp creator to turn it into a stamp all without returning to your computer.
The ability to create your own stamps is huge, but one problem some people run into is that they want to create stamps for things like chord diagrams and 48×48 pixels is just too small (using a retina display bumps the detail up to 96×96 pixels, but the physical dimensions are the same). Now, we've bumped that limit up to 72×72 or 144×144 pixels and we're automatically upgrading all of forScore's default stamps.
Finally, we've added the ability to save and reuse swatches in the color picker that's used throughout forScore. That means you can quickly switch between your favorite colors when tinting stamps and shapes, changing the color-coding of buttons, setting a color for a group, and more.
We know that details matter, especially when we're talking about something as important as annotation. Even the tiniest tweaks can have a big impact over time, and we think these great improvements certainly fit the bill. We're very excited to bring you these improvements as well as everything we've unveiled over the past few weeks (and a few things we still haven't had time to cover) just as soon as it's ready. Stay tuned!