With the upcoming release of iOS 4.2, we wanted to take a moment to talk about our next update, forScore 2.1. This update, which we submitted to Apple for approval last week, is fully tested and compatible with iOS 4.2.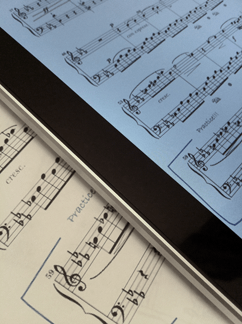 This update also adds support for AirPrint, which allows you to print files directly from your iPad to an AirPrint-compatible printer. You can choose to either print the original PDF file itself, or you can print a series of screenshots that also include your annotations.
Version 2.1 also adds new features like the ability to duplicate setlists, includes new stamps for guitarists, and further refines many of the dozens of features that were introduced in forScore 2.
We don't have exact timing for the release of forScore 2.1 and iOS 4.2, but we're expecting both of these updates to be available very soon.
Update: Apple appears to have removed the ability for AirPrint to utilize shared printers connected to Macs running 10.6.5 or PCs with iTunes 10.1. We are obviously disappointed that this feature will no longer be available for the vast majority of our users and hope that Apple has postponed it instead of canceling it entirely. Until Apple chooses to notify us about this change, the status of AirPrint is purely speculative, but we'll update this article as soon as new information becomes available.