September 30, 2014
| News
As some great developers once said, some ideas don't make sense until suddenly they do. Today we're very excited to give you a first look at a project we've been working on for quite some time now: forScore for iPhone.
Since forScore was first introduced we've heard from people who, while recognizing the obvious limitations of viewing sheet music on a tiny screen, have wondered if there was a way to combine the ultimate portability and connectivity of an iPhone with the full feature set and speed of the iPad. That's exactly what we've done, and forScore on the small screen is no compromise when it comes to either. It's lightning fast, and it replicates every single feature of forScore for iPad (except the storefront, due to in-app purchase limitations). It's not a read-only app, not a mobile companion, it's the complete forScore experience in your pocket. This was our most important goal when designing forScore mini, and we couldn't be more proud of the results.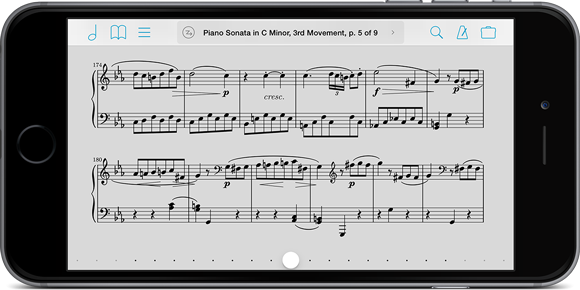 Of course, the 4-inch elephant in the room is the iPhone's tiny screen size. Thankfully, Apple answered that question for us (as we were hoping they would) with the new iPhone 6 and 6 plus. Suddenly, this idea makes sense. The 4.7 and 5.5-inch screens used in the latest generation of iPhones are a huge step up and really make this a viable product. We won't be requiring an iPhone 6, but we'll be strongly recommending one.
Finally, our incredible new layout feature that we introduced with forScore 8, Reflow, is a key part of this mobile experience. Reflow, if you missed our recent post, is an accessibility feature that finds and lays out each system of music in a score end-to-end, creating a sort of horizontal teleprompter experience that lets you significantly increase the size of music on a device. On the iPad, it's a great enhancement for our customers with vision problems, but on the iPhone it's essential. It's what turns a tool for casual review into a full-blown music reader.
This is new territory for us, and we couldn't be more excited. We're going to need some help, though, so we're asking for beta testers to try it out and give us feedback on what works and what doesn't. If you're interested, let us know. Otherwise, be sure to check back here as we finish it up and release it later this year.
Update: We have reached our beta tester goal for this version, but we're working hard to finish forScore mini so everyone can try it out as soon as possible. Thanks for your interest!