Over the past six years, we've seen several different companies bring page turners to the market and continue to innovate with firmware updates and new models. From the original versions to their modern counterparts, each company has tried to balance portability, reliability, power, and software connectivity in a variety of different ways. The latest entrant is IKMultimedia's iRig BlueTurn, and it's a solid device that strikes a good balance between each of the tradeoffs found with its competitors.
The BlueTurn looks a lot like half of IKMultimedia's iRig BlueBoard, featuring two of the same rubberized backlit pads that are completely silent and have a different feel than the more traditional pedals of most other devices. Unlike the BlueBoard, which was designed more for MIDI functions and features its own companion app, the BlueTurn is more like the other keyboard-based page turners on the market. It sends standard up/down, left/right, or page up/page down keys—all of which work with forScore without any additional configuration.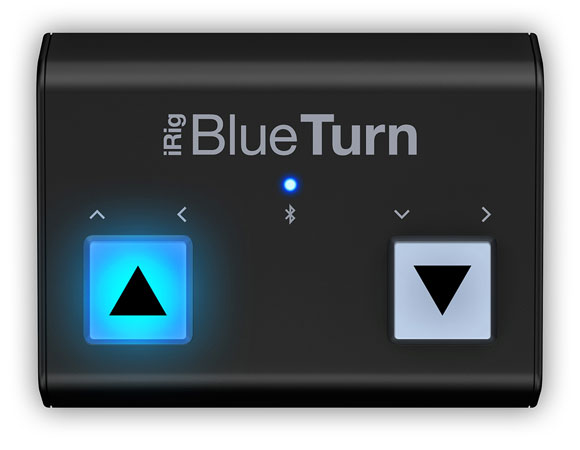 It uses the Bluetooth Smart standard (a.k.a Bluetooth LE, Bluetooth 4.1), making it incredibly power efficient. It runs off of two AAA batteries that can be quickly replaced in a pinch, unlike other page turners that rely on built-in, slowly rechargeable batteries. You'll need a Bluetooth Smart-capable device to use the BlueTurn, and every iPad except the iPad 1 and 2 will work.
There are other Bluetooth Smart devices out there that are compatible with forScore, including the larger BlueBoard, but their connection must be micromanaged from within forScore's Devices panel. The AirTurn PED requires its own SDK and uses its own interface to manage the connection, and when things go wrong these extra steps can be a pain. The BlueTurn, on the other hand, connects like most older page turners—through the Settings app. Setup is straightforward and reliable, and once it's done you shouldn't have to think about it ever again.
The biggest downside to the BlueTurn is that iOS disables the virtual, on-screen keyboard when it's connected (just like Airturn's BT- series, PageFlip's Cicada and Firefly, and the Footime page turner do). You can toggle the keyboard by pressing and holding the left pad for three seconds, but this extra step is definitely something avid users of forScore's text annotations and search features should be aware of.
Beyond that, the BlueTurn works just like you'd expect. Press the right button to turn the page forwards, and the left button to turn backwards. And at $69 (USD), it's a good option for musicians who don't need extra pedals and don't rely heavily on typing.
Pros:
• Bluetooth Smart technology provides great battery life
• Batteries can be replaced quickly
• Backlit pads are easy to see in dim environments
• Connects on a system level via the Settings app
• Works out of the box, no need to adjust "modes"
Cons:
• Requires additional steps to use the on-screen virtual keyboard
• Incompatible with iPad 1 and 2
• No auxiliary ports for additional pedals