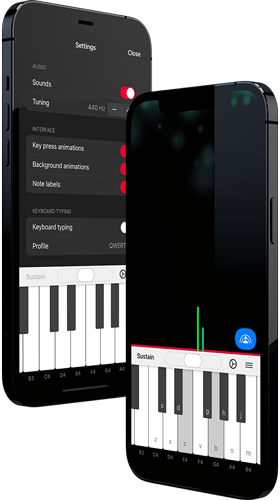 Over the past few months we've been working on a brand new app based on forScore's on-screen piano keyboard, called Piano with Friends. This standalone version includes the same great features like a high quality sound bank, fine tuning, note labels, and MIDI support, but it also includes some new features that really make it deserving of its own app.
First, it supports typing input so you can play by pressing keys on a standard computer keyboard. There are several built-in layouts, but it also supports custom configurations so you can use it no matter which kind of keyboard you have. It's the first of its kind that we've seen and we think it provides a great and highly flexible solution for everyone.
Piano with Friends, as the title hints, supports Apple's forthcoming SharePlay feature which allows you to participate in group activities while on a FaceTime call. That means you can play piano with anyone, anywhere in the world.
All of that and more will be coming soon to iOS, iPadOS, and macOS, but we're ready to start beta testing today. Just click this link to join our public beta and let us know what you think, or click below to learn more about our newest app.
Update:
beta testing for this app has now ended, and Piano with Friends is available now on the App Store for iOS, iPadOS, and macOS as a single universal purchase.