On iOS devices, swiping down from the very top of the screen lets you access a dark panel called Notification Center. Like its name suggests, it gives you quick access to all of your device's notifications, but it also has another view called the "Today View" that lets you see all sorts of bite-sized pieces of information. With a quick glance, you can view your upcoming calendar events, check the local weather forecast, monitor traffic conditions, and more.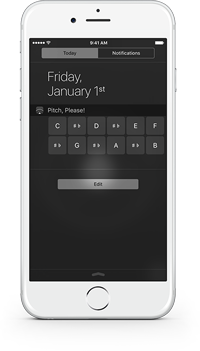 These chunks of information are called widgets, and you can pick the ones you want to see and rearrange them to suit your needs. Some of them are built-in, but developers can also create their own widgets and include them with their apps for free. To use one of these widgets, just tap the "Edit" button at the bottom of the "Today" view and then tap the green plus button next the one you want to see.
A pitch pipe widget is included with forScore, forScore mini, and Pitch, Please! (our standalone pitch pipe app). Once you've set it up, you can tap any of the note buttons to hear a pitch in whichever octave and instrument you last used within the app itself. It's quick and easy, so if you find yourself needing a pitch pipe regularly be sure to check it out!