September 12, 2016
| News
Today we're happy to announce the immediate availability of Pitch, Please! 2.5, an exciting and totally free update that adds a brand new Apple Watch app and updates the widget for iOS 10's beautiful new style and sizes.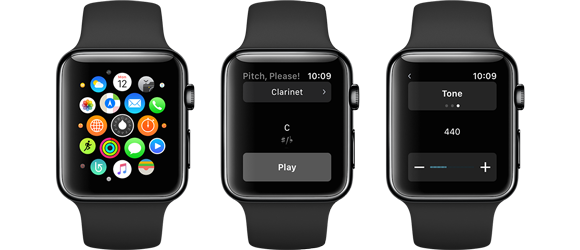 Since the original Apple Watch announcement we knew the wrist could be the perfect place for a utility like this, but unfortunately Apple's frameworks didn't do what we needed until now. That's why Pitch, Please! for Apple Watch requires watchOS 3, due for release tomorrow. Of course, if you're part of Apple's public beta program you can get an early peek right now.
Get Pitch, Please! 2.5 today, free for existing users and just $0.99 (USD) on its own. Or, for an even better deal, get the whole Music Box for $3.99 (pro-rated for any previous purchases).
Find your starting pitch with our universal app, widget and watch app.
Get our four utility apps or complete your collection with this app bundle.