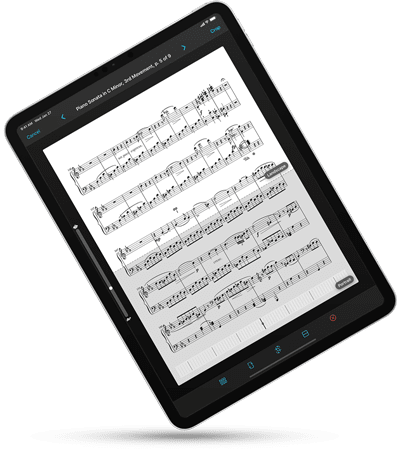 Our next big update is almost ready, and today we're very excited to be able to give you a first look at what's coming in this incredible new version. Here is just some of what you can expect to see in forScore 11.2:
We've completely rewritten our Crop interface with three goals in mind: enhanced precision, greater flexibility, and the ability to crop or uncrop all pages of a document at once. We re-thought every control and interaction, added a bunch of new capabilities, allowed for more freedom when positioning your page, and built it for maximum performance and efficiency. There's way too much to go into here, so be sure to check out the sneak peek article below for more details on this exciting upgrade.
Next, we added some big new things when it comes to Content Providers. We're welcoming Virtual Sheet Music to the growing list of providers, you can now download Musicnotes purchases in any available transposition, and you can set up automatic downloads to let forScore add new purchases to your library as they become available.
The Pitch Pipe now features a new continuous playback mode so you can hear a note indefinitely, and Buttons can now be configured to use a specific sound bank. Spotlight integration makes it easy to find your setlists, scores, and bookmarks right from the home screen, while improvements to library management make browsing and managing your files better than ever. And, when you're annotating, optional two- and three-finger taps make undoing or redoing markings a breeze.
For our forScore Pro subscribers, we're introducing Page Copy & Paste. A new default annotation layer, the "PDF" layer, works just like any other—except that when you use the selection tool to copy or duplicate an area, it copies the contents of the page itself so you can reposition them or paste them on another page or even into another document.
That's a very quick overview, so for more details be sure to visit the page below. As always, this update will be completely free for all existing users and we think it's a big step up. If you want to take it for a spin today, consider becoming a beta tester to try out early versions and help us get it finished. Otherwise, stay tuned for more!