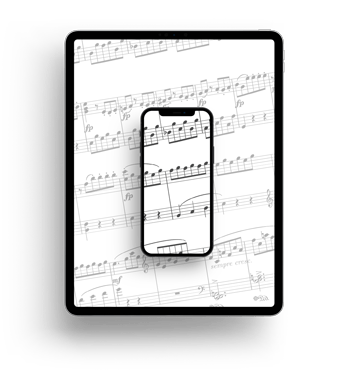 Today we're proud to give you a first look at forScore 12.1, one of our most important updates ever with just one major new feature: iCloud Syncing.
Built upon years of hard work and with the utmost priority for ensuring that your music is always instantly available, forScore's syncing engine coordinates with all of your devices to keep your music up to date automatically. It stores a complete copy of your library on each device, so there's no need to wait for something to download when you want to play it.
We've been testing iCloud Syncing with our beta program, and now we're getting ready to start rolling it out to everyone. To ensure that it's fully optimized for all of our users, iCloud Syncing will be offered first as an Early Access feature for forScore Pro subscribers, and will be coming to all users later this year.
This feature has been high on many musicians' wish lists since iCloud was unveiled years ago, and we worked hard to deliver the most reliable, sophisticated solution we could. It took far longer than expected, and we sincerely appreciate your support—it got us here today and ensures we can continue onward for years to come. Thank you!