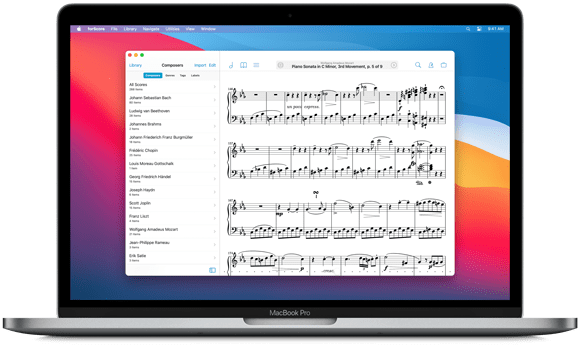 forScore has come a long way since its introduction back in 2010, and what started out as a simple sheet music reader for iPad has since turned into something far bigger: the ultimate sheet music reader for iOS. Today we're very proud to announce forScore 12, our latest major update that takes things even further.
This fall, forScore comes to the Mac with an incredible new experience that's optimized for the big screen. It's totally familiar but more flexible and powerful than ever, giving you a whole new way to enjoy forScore and read sheet music. forScore 12 is built for macOS 11 Big Sur and runs beautifully on all supported Macs, including the Intel-based models currently available and the Apple Silicon-powered models still to come.
As with every other major update we've released, forScore 12 is absolutely free for anyone who bought a previous version, and since it's a universal purchase you get support for all three platforms automatically: iOS, iPadOS, and now macOS. That's right, forScore for Mac is built in and absolutely free for all existing customers.
Building forScore for the Mac was no small feat, but of course that's just part of what this major update has to offer. As usual we've put together a special sneak peek to give you a look at some of what's coming. Check it out below!