Today we're very excited to give you a sneak peek at the next major version of forScore, version 4.0. Things have been quiet around here as we work hard to get ready for such a big update, and we think you'll agree that it was worth the wait when we release it in the next few weeks.
We started by combing through every part of the app to make it better, faster, and more efficient than ever before. Annotations are more responsive, library routines are smarter, and page turns benefit from an all-new adaptive caching system that takes advantage of every millisecond of downtime without ever getting in your way. Just a few page flips and you'll see why we codenamed this version Mercury—it's the lightest, fastest version yet.
There's more than just speed, though: version 4.0 also greatly improves your workflow. For instance, most menus now include multi-select for iOS 5 users; that means you can choose one or more scores and then perform a variety of actions on those scores, rather than having to always work backwards. It's one of the most important changes we've ever made to forScore, and we think you'll love it.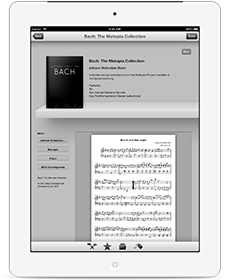 Of course, forScore is only as good as your content, and we're making it even easier for you to find high-quality scores by introducing a full in-app purchase storefront. It's the best place to discover, preview, and download free and paid scores that are optimized for the iPad. We're working with artists and publishers alike, so let us know if you'd like to participate.
Version 4.0 is packed with lots of other great new features, too: setlist sharing, audio track looping, page note reminders, annotation font styles, and two new page transition options are just the beginning.
As always, this update wouldn't exist without the incredible participation and feedback from our users, so thank you. Your passion is why we work hard every day to make forScore even better, and version 4.0 is no exception. We can't wait to share it with you.