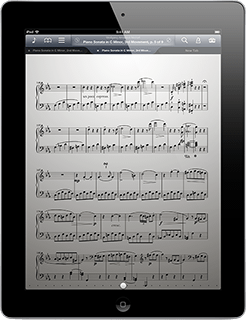 Today we're very excited to give you a first look at the latest update to forScore, version 5.0. It's been less than three years since we first introduced forScore—just days after the original iPad went on sale—and it has come a very long way since then. With 5.0, we're continuing to lead by taking some of the biggest leaps yet without compromising our promise of free and meaningful upgrades for life.
From our most common feature requests to major under-the-hood rewrites, 5.0 packs quite a punch. We've added incredible new features like tabbed browsing, a new two-page view, and passcode restrictions for certain features (great for educators). We've refined the essentials to include movable half-page turns, multiple composers, and we've moved setlists to their own menu complete with a brand new full-screen setlist creator that lets you view and edit your list while browsing and adding new items. We've even added the ability to offset page numbers, merge files right from the score menu, or add placeholders to your setlists.
There's a lot more to 5.0 than that, though. We've rewritten forScore's library storage system to use Core Data, so it's faster and more efficient than ever before. It's the kind of change that really sets the stage for years of upgrades to come, and we couldn't be more proud of it.
Of course, none of it would be possible without you, our customers. We're extremely grateful for your support and engagement, and although forScore 5.0 won't be ready for a few more weeks, we want to hear from you. If you're interested in helping us get ready for this huge update, we can always use beta testers. And, if you're fluent in English and at least one other language, we'd love your assistance with translating forScore. We can't wait to show you what we've been working hard on for the past four months, and we couldn't be more excited about the future of forScore. Thank you!