We've been working hard for the last several months to ready our next big update to forScore, version 6.1. This update is all about MIDI, and it's much more than a simple add-on. We've woven MIDI functions into the app at several different levels, making it even easier to integrate forScore into your connected setup. Use Apple's Camera Connection Kit to attach your USB-equipped device or use an adapter like the iRig Midi.
Once you do, you'll be able to play forScore's virtual piano instrument, use MIDI signals to open specific scores or perform common actions, and add commands to any item in your library to be broadcast automatically any time you open it (including program changes, song select messages, and raw hex codes).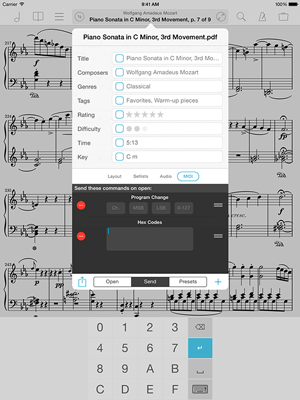 Console has seen some important enhancements, too. The metadata view now includes the ability to create and edit bookmarks, and allows you to manage setlist and library membership (just like you can with forScore's Metadata panel). The main view now features a menu bar along the top of the screen that allows you to create new libraries and switch between them without returning to the iPad.
We've also made working with password-protected files more straightforward, expanded our shortcut options to include audio track controls, upgraded the metronome's sounds, and added native support for Apple's latest 64-bit devices.
It's a great update, and we can't wait to release it in a few weeks when it's ready, so be sure to stay tuned. Thanks as always for your support!