Today we're very excited to give you a sneak peek at something we've been working on for over six months now, coming this spring to forScore and forScore mini. It's called Groups, and it's a brand new service that lets you automatically share read-only copies of your music and setlists with colleagues. It's the easiest way to keep everyone on the same page, no matter where you are.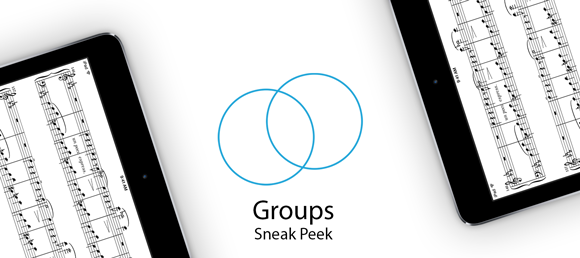 What it does
Many musicians work in groups, and sending PDFs back and forth or rearranging everyone's setlists at the last minute can be a huge hassle. Now, as a group manager, you'll be able to assign specific scores and setlists to your group. As you work, changes will be uploaded automatically and efficiently in the background. Your colleagues can join your group and, once you've approved them, will receive updated scores, metadata, annotations, and setlists even if they're miles away.
How it works
Groups is built on top of CloudKit, so there's no additional account to create or separate system to use. As long as you've set up a free iCloud account, you'll already be logged in and ready to use Groups. Since we're securely sharing information between iCloud users, your group's files won't count against your personal storage limits, they'll count against ours.
CloudKit is a new technology and there are a lot of important details that we just don't have yet, such as how much Apple will charge developers for exceeding their complimentary quotas. Because of this, Groups will be a paid service and we're taking a conservative approach to rolling it out. Although anyone can become a member of a group, a monthly subscription will be required to create and manage your own groups. Once you do, you'll be able to share up to 250MB of content with up to 10 group members, and we expect these limits to increase over time.
What's next
We think Groups will be a fantastic new tool and we can't wait to show it to you. We'll be beta testing it and a few other tidbits in forScore 8.2 and forScore mini 1.1 over the next few months, so if you're interested in participating please let us know.