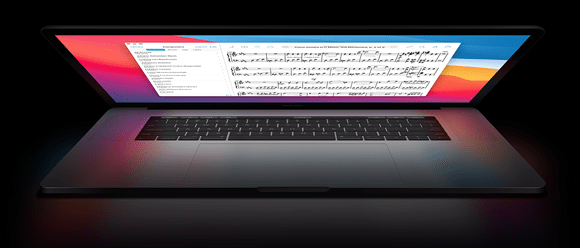 Today we're absolutely thrilled to announce the highly anticipated release of forScore for Mac. It's available exclusively for macOS 11 Big Sur and is offered as a Universal Purchase, meaning that it's completely free for anyone who has ever bought forScore. Big Sur is also a free update, available starting today.
With the introduction of Apple Silicon-based Macs, it's easier than ever for developers to get their iOS and iPadOS apps onto the Mac with no modifications—but that's not what we've done with forScore. Instead of letting Apple shoehorn our apps exclusively onto their newest Macs (with significant limitations), we built a unique experience that highlights the best parts of the platform, highly optimized for Apple's next generation of Macs, while ensuring full compatibility with the millions of Intel-based Macs that are already out there today.
It feels right at home with Big Sur's dramatically overhauled interface—but it's designed to be used, not just marketed as a proof of concept. It's fully-featured and built to be a practical, everyday tool for musicians using almost any Mac. That's also why we don't charge separately for it—we want forScore on the Mac to be accessible, especially during this tough year.
It has been a long journey to get to this point, but we know this is just the start of what we'll be able to do on some of the most incredible, powerful devices out there. Thank you all for your support and enthusiasm, they made today possible and we're tremendously grateful. Be sure to check out forScore for Mac today, and visit this knowledge base article for complete details or to find answers to some common questions.
Available now for iPad, Mac, iPhone, and iPod Touch