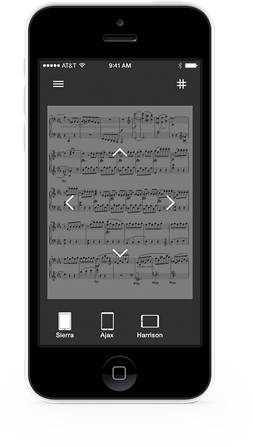 Since its introduction last fall, forScore's remote control system, Cue, has been a big hit for all sorts of musicians. On the road or in the classroom, it's proven to be a great way to keep everyone on the same page. Today we're taking it a step further with a standalone version of Cue for iPhone and iPod touch.
Cue lets you remotely control nearby iPads running forScore 6.1 or later. Tap the left and right arrows to turn pages, or tap the up and down arrows to page up and down (or to toggle half-page turns, depending on the receiving device's orientation and settings). Instantly jump to a specific page or to any score that's available on all connected devices. You can even view the screen of any connected iPad to follow along as they play.*
We're thrilled with this great new page turning option for our users, and we're proud to welcome it to the forScore family. Cue is available now on the App Store, so be sure to check it out!

*Performance can vary greatly based on environmental factors and network availability. A wi-fi connection is strongly recommended, and image quality may need to be adjusted via the settings app for optimal responsiveness.