September 13, 2023
| News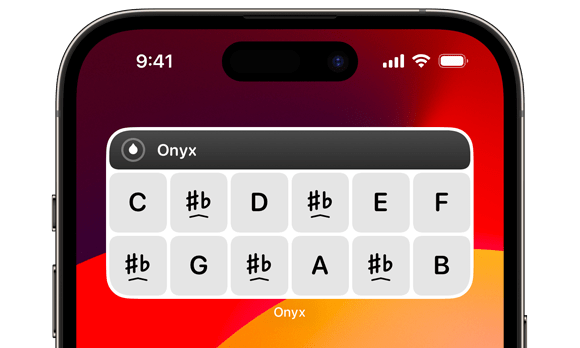 Today we released a few updates, including Onyx 4.1 which introduces an all-new interactive widget for iOS 17, iPadOS 17, and macOS 14 Sonoma. Much like the legacy Today View widget, it features a grid of buttons that lets you hear a note with just a tap. Unlike the old version, however, this widget can be used on the home screen, Today View, iPhone StandBy, iPad lock screen, and Mac desktop. It supports the three most common widget sizes so you can put it wherever you like.
We also just released Cue 2.1 which improves Dual Page mode when running beside forScore 14.1 (due for release early next week) by adding support for custom button/link accessibility sizes and forScore's new button labels feature. Finally, we released TuneWave 2.0.2 which optimizes its shortcut widget for iPadOS 17.
These updates are free and all available now for iOS, iPadOS, macOS, and watchOS, so be sure to check them out today!