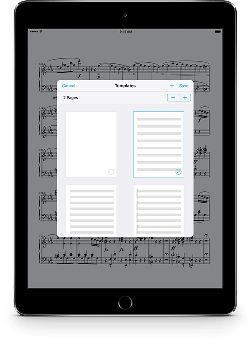 Today we're extremely proud to announce the release of forScore 10.2 and forScore mini 3.2 on the App Store. These big updates introduce some incredible new features like Templates, Indexes, and Dual Page mode, but they also include key improvements to several of forScore's most popular tools.
There's too much to list here, so be sure to check out our feature page on everything that's new in 10.2 if you haven't had a chance to do so already. It's a jam-packed update that we've worked very hard to put together, and we think the end results will speak for themselves and really kick things up a notch.
As always, these updates are completely free for all existing users so visit the App Store today to get your hands on them. Thanks as always to our beta testers for lending us their time and providing valuable feedback, and thanks to all of our customers for your continued support and passion. We couldn't do it without you.
Available now for iPad
Available now for iPhone and iPod Touch