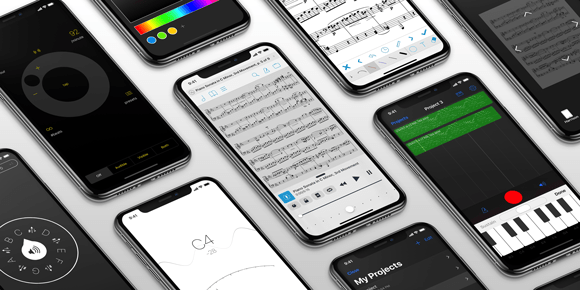 We've been working incredibly hard over the past few months, as we always do over the summer in preparation for a major new iOS version, but this year is a little different: Just as we were putting the final touches on our huge forScore 10.3 and forScore mini 3.3 updates, Apple announced three new iPhones—one of which is rather unlike any model that's ever come before it.
The iPhone X may not have been a surprise to anyone who frequents Apple rumor sites, but what we didn't expect is that while unoptimized apps run in a special compatibility mode, any app that has been updated for iOS 11 is automatically flagged as optimized for iPhone X and does not use this compatibility mode. So with just a little over a month to update every app in our lineup, we found ourselves jumping right back in.
Today we're extremely proud to be able to share the results of that work with you. While the iPhone X (and its notch) may seem unfamiliar at first glance, the extra space at the top and bottom of the screen really does start to feel natural once you've been staring at it for a few weeks. We've updated every single one of our iPhone apps, including forScore mini, Nocturne, and our four utilities: Cue, Beat Keeper, TuneWave, and Pitch, Please! These updates are available now, free of charge for all of our existing customers, so be sure to check them out.


forScore mini


Nocturne


forScore Cue


Beat Keeper


TuneWave


Pitch, Please!