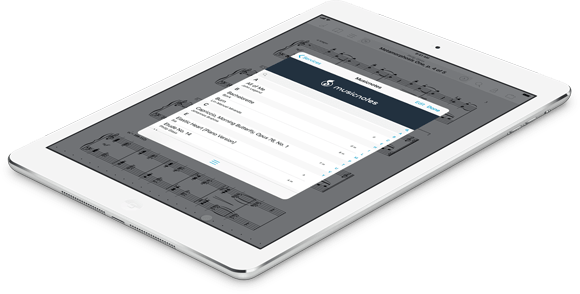 Today we're incredibly excited to give you a sneak peek at our next major updates: forScore 10.4 and forScore mini 3.4. These updates include a bunch of exciting new features, like annotation layers, but the most significant news is even bigger than that.
We've partnered with Musicnotes.com, the world's leading digital sheet music retailer and publisher, to give you direct access to your sheet music purchases right from within forScore. Just sign in with your account through the Services panel to view and download your songs.
Musicnotes offers over 300,000 arrangements spanning dozens of styles, instruments, and difficulty levels, so anyone can find something new to play. These are incredibly high quality, digitally-sourced files that deliver exceptional performance while taking up a tiny fraction of the storage space that scanned PDFs require. Best of all, these are fully licensed scores so you can avoid any tricky legal gray areas and support the many people behind the music you love.
These aren't locked down or offered in a special custom format, they're absolutely standard PDF files. They're not password-protected, so you don't have to rethink your whole workflow or jump through hoops just to use them flexibly, legally, and fairly.
It's the ultimate collection of high-quality files, coupled with the best-in-class reading experience you use every day, and it's just one of the ways these updates improve your sheet music reading experience. Visit our new in-depth page to see all of the changes we're including, and help us get it ready for a full release if you can by becoming a beta tester. Otherwise, stay tuned over the coming weeks as we finish up this huge update and get it out to all of our amazing customers!