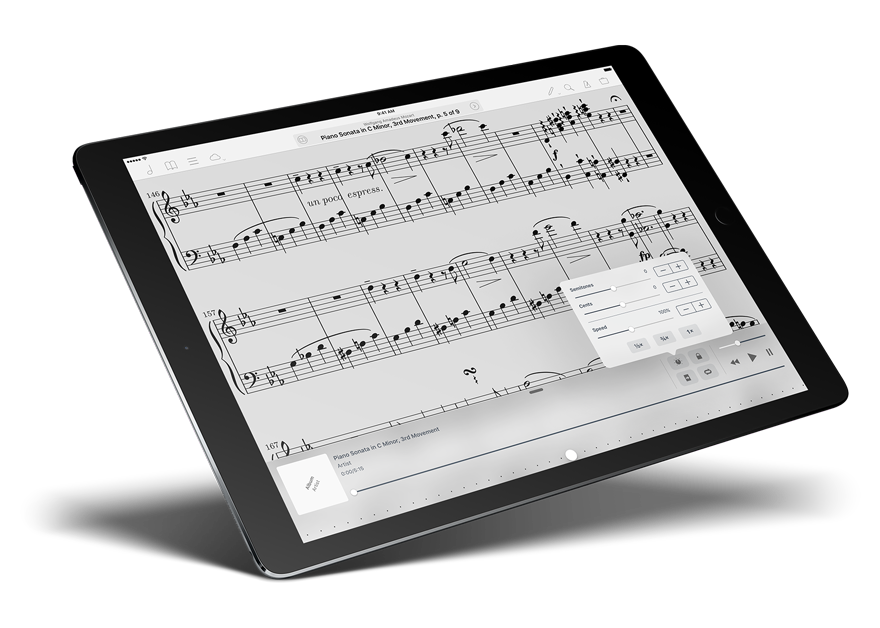 The sky's the limit.
Some developers accept "good enough" and only make changes to avoid bad reviews or to tread water for a few more months. Others aim big, get stuck, and just keep adding 9's to the version number of their one-hit wonder. Not us. We've worked hard over the past six years to add new features, rethink the ones that didn't cut it, and adopt the latest technologies and devices. We didn't sit still, and we won't until forScore is the best app it can be. Meet forScore 10, the latest in a long line of big leaps forward.
Annotation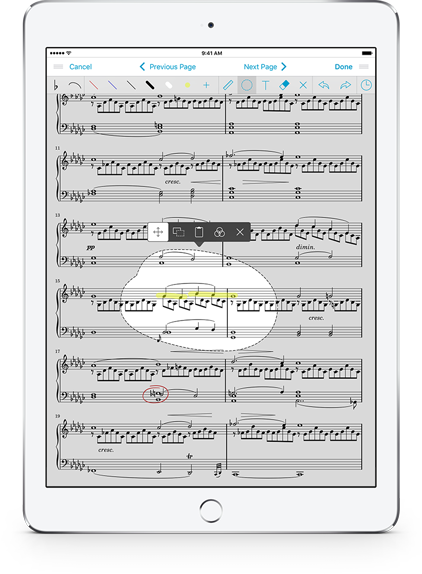 Selection Tool
While forScore's annotation tools have been dramatically enhanced and refined over the years, the annotation experience on the whole had remained largely static and linear: draw and erase, undo and redo. Once you'd hit save, your annotations were pretty much stuck in time. With the new selection tool, that's a thing of the past.
Now you can use your finger or Apple Pencil to select a specific area of drawn annotations, including stamps and shapes, and then reposition, duplicate, or clear them without affecting the rest of your annotations. You can also re-color annotations by adjusting their hue, saturation, brightness, and opacity.
You can even copy and paste drawn annotations between pages, or between files. It adds a whole new dimension to the annotation experience, and you'll wonder how you ever lived without it.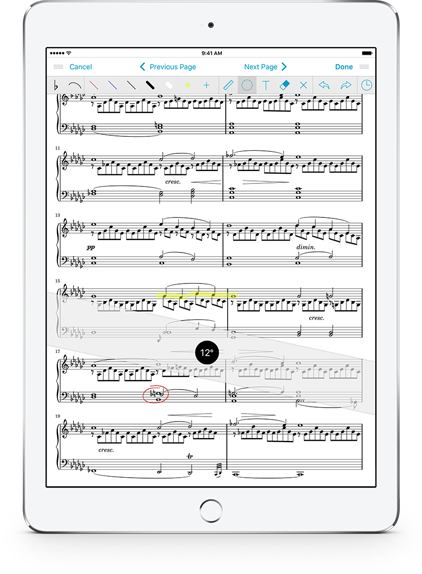 Ruler
Sure, it's not cutting-edge technology (those would be scissors), but forScore's new ruler tool is just the thing when you need to draw straight lines or precisely align your stamps and shapes.
Tap the new ruler icon to show or hide it. Drag it around, use two fingers to rotate it to a specific angle, and then start drawing near either edge to snap to it. Or start drawing out in the open and the ruler will stop your drawings from going too far if needed.
That's pretty much all there is to it. Fire, the wheel, rulers. Some technologies need no revision.
Turbo-charged
Saving
Don't blink! Tap that done button and you may not even see the spinning activity indicator in the top left-hand corner of the page appear at all. That's fast.
Pencil
If you've got an iPad Pro and Apple Pencil, a new setting lets you turn off finger drawing so you can do things like drag the page up and down with one finger.
Storage
Your annotations now take up far less disk space, so you can fit more sheet music on your iPad. Best of all, it's backwards compatible so no one gets left out.
Audio
Audio Engine
We didn't just rewrite our audio engine, we leveraged three separate technologies to bring you the best possible experience based on your device's capabilities and each specific audio track. If your audio track uses DRM or hasn't been downloaded to your device, it'll play through the system's Music app just like before. The rest of the time, you'll get more responsive playback controls and you'll be able to independently adjust a track's playback speed and pitch (without one affecting the other).

Speed
Control the playback speed of your audio tracks with incredible precision, from a numbingly slow 25% all the way up to double the song's original speed. Changing the speed doesn't effect the pitch, so you can get the timing just right without the chipmunk effect.
Pitch
Change a track's pitch by up to an octave in either direction without affecting the song's playback speed. Adjust by semitones or cents for complete, granular control. Both speed and pitch are saved per track so you don't have to keep adjusting them as you work.
Darkroom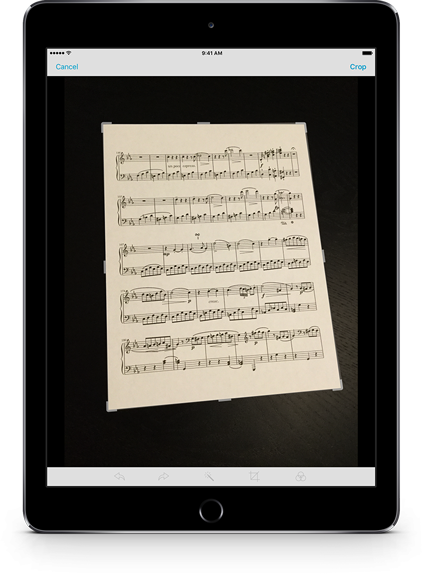 Crop
Taking pictures with an iPad can be cumbersome, and getting perfectly aligned photos of pieces of paper is nearly impossible. That's why we added a crop tool to forScore's Darkroom. It lets you re-frame your photo after the fact to cut out everything except the page.
It's not just a simple rectangle, either. The new Crop tool lets you drag each corner freely, expertly accounting for perspective, rotation, and alignment no matter what your original photo looks like.
Better still, forScore employs advanced edge detection technologies to guess where the edges of your page are and positions the crop window for you automatically. Refine as needed, then tap "Crop" to get high-quality results without getting anywhere near a flatbed scanner.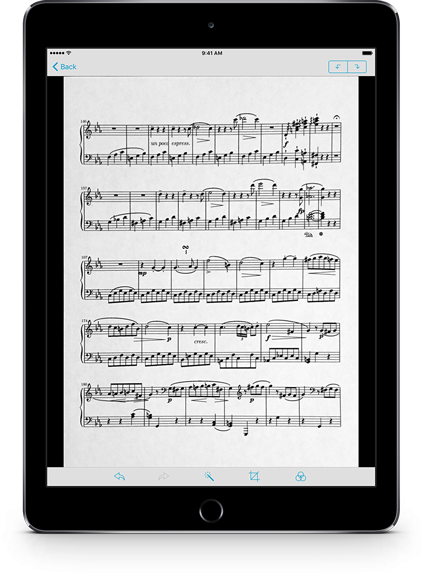 Enhance
Framing is just one part of it, though. For the best results, you also need to account for lighting and other factors that can turn your perfectly legible sheet music into a muddy mess.
Darkroom's new Enhance tool analyzes your photo and applies a set of filters to give you much better results with just a single tap. It adjusts the tone, highlights, and shadows of your image automatically and intelligently.
Use this tool to adjust a single image, or use it from the main Darkroom view to let it work its magic on all of your pages at once.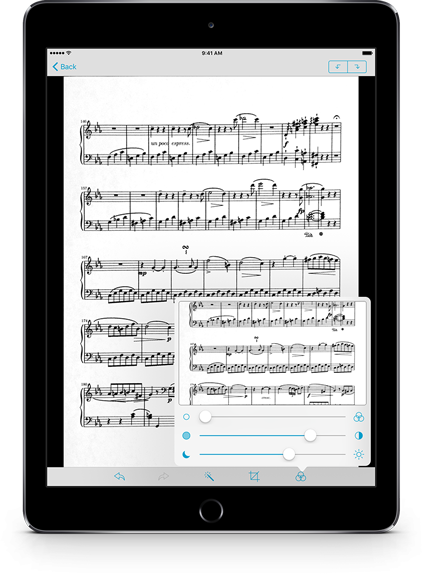 Adjust
Crop and Enhance will get you most of the way there, but for perfect results you'll want to use the new Adjust tool.
This new panel gives you complete control over an image's saturation, contrast, and brightness. And just like the Enhance tool, it can be used per image or to edit all of your pages at once.
Enhancements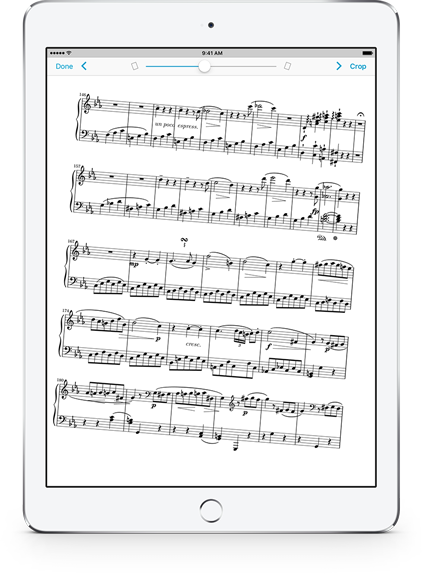 De-skew
PDF files are ubiquitous, flexible, and well-supported across platforms. They can also vary wildly in quality, from pristine, digitally-created masters to terrible, crooked scans. We've received a lot of requests over the years to add a way to fix these files, and now we have.
Now the Crop tool has a skew slider at the top of the page that lets you tilt left or right up to twenty degrees. It works perfectly with the rest of the crop tool, so you can zoom and pan until you've got the perfect view of your page.
De-skewing a page is easy enough, but the real trick is keeping your annotations, links, and buttons aligned properly. We've done just that, and it works beautifully in forScore 10. If you need to share files with colleagues using forScore 9 or earlier, sending an annotated PDF is the best way to keep your edits intact.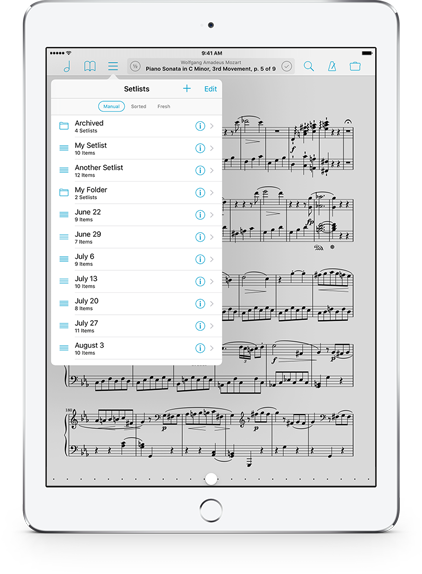 Setlists
For many users, setlists are the real workhorse of forScore. They're flexible and essential to a lot of people, but they can also start to get out of hand if you create a lot of them. Some people upload and archive their setlists in the cloud, but with forScore 10 we set out to design a better way for people to organize and archive their setlists.
Attribute-based menus foster a more browsable music library and are perfect for scores and bookmarks, but they don't allow for concepts like archiving since they're non-exclusive. And since setlists have always been a little different—they're arbitrary, explicitly created, and manually rearranged—we knew we had to take a different route.
So for Setlists, we chose to use Folders instead. Just like on a computer, a folder represents a single, concrete location. That means you can create folders and move setlists into them and they'll no longer be visible in the main Setlists menu. It's the right tool for the job, and we think it'll really help musicians tame their growing collection of setlists.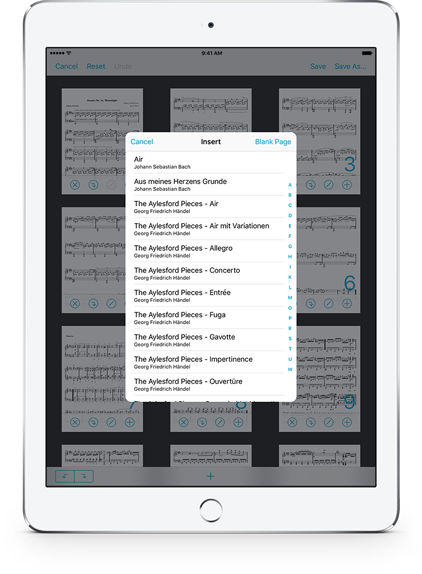 Insert
When it comes to reordering pages or splitting a PDF file into multiple parts or songs, the Rearrange tool has long been the best and quickest way to do so. Inserting pages, on the other hand, has always taken two steps: select two or more files from the menu and merge them, then use the Rearrange tool to move pages around from there.
With forScore 10, you can do all of this and more with the new Insert function. While rearranging one file, tap the new + button at the bottom of the screen to add the pages of another score or bookmark to your workspace. Move them around, delete some, or rotate them as needed and save the results as a new file or overwrite the original.
Not only can you add pages from other items in your library, you can also insert blank pages. They're fully annotatable, so you can use them for just about anything!
Shortcuts
Not everyone uses a keyboard with their iPad, but for those who do we've added a bunch of new default shortcuts that make navigating and using key features even easier. Quickly switch tabs, create new ones, or close them. Get to the setlists menu or metadata panel instantly. Toggle the metronome. While in annotation mode, use new shortcuts to switch tools or undo and redo your edits. And if you use MIDI devices, you can now also use some velocity-based controls to activate shortcuts.
More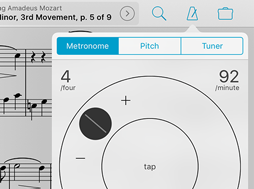 Metronome
Make quick, precise adjustments to the metronome's BPM value by tapping the new plus and minus buttons on the dial.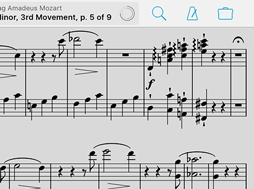 Goals
Use the new Goals widget to track your progress live, right from the title display in the main control bar.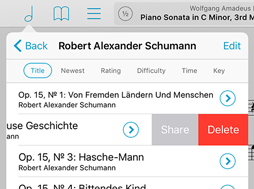 Sharing
If you're using iOS 8 or later, swiping left on an item or setlist in the menu lets you quickly share it with colleagues or friends.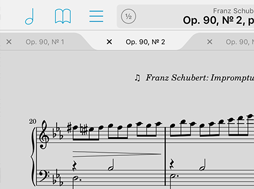 Tabs
Reorder your tabs quickly and easily by tapping and holding one of them, then dragging it left or right.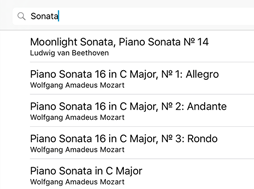 Search
Don't fret if you pick the wrong thing from the search panel: it saves your query for one minute so you can try again.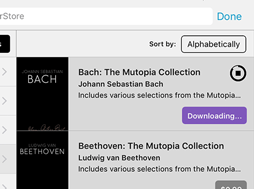 Security
Most of forScore's network features are now App Transport Security-compliant, so your important information stays private.

Available now.
forScore 10 and all of these amazing upgrades are available now, absolutely free for all existing users. Get it today on the App Store, and be sure to check out our news page or use our RSS feed to follow our latest news and announcements.