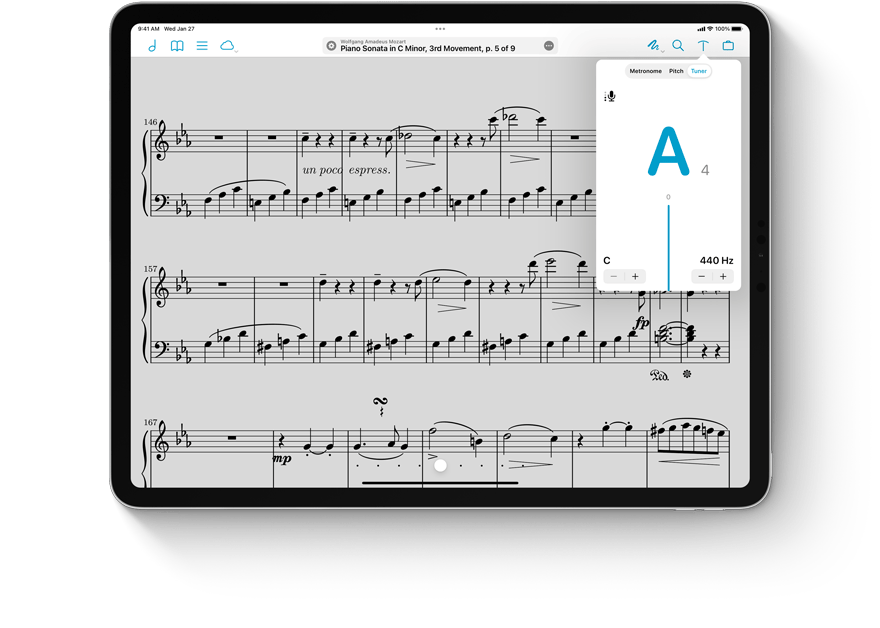 Your other finely tuned instrument.
Adaptive Caching
Sure, it's a mouthful, but our caching system is one of the most essential parts of the app. We can't upgrade your device's hardware, but we can make sure that every second of downtime is used wisely. We always cache the previous and next pages of your score and, if there's time, up to twenty pages in either direction. If the system starts to run low on resources, we step back and make sure the essentials are covered. It's the best kind of help—there if you need it, but never dragging you down if you don't.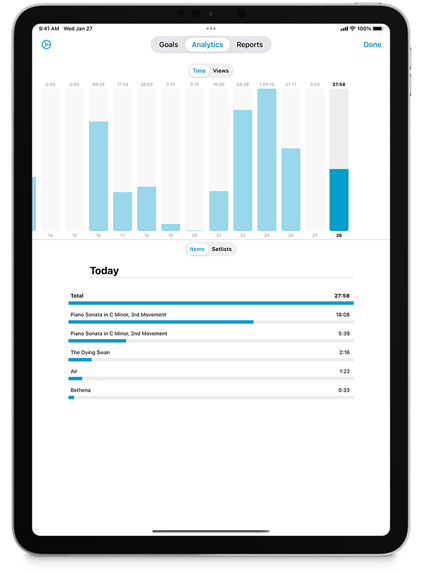 Dashboard
Refinement requires thorough and realistic measurement. We can't judge how well you play, but with Dashboard we can help you keep track of how often you play. If you allow it, forScore collects information about what scores and setlists you're viewing and for how long.
With that information forScore can help you set and reach your practice goals. Once you reach them, you can share your success with the world by posting an image to your favorite social network.
It even allows you to create templates and generate PDF reports based on certain criteria, such as unit of time (day, week, or month), length of time (e.g. the past three weeks), and whether to show items, setlists, or both. They can be item- or setlist-specific, or they can show everything. Once you set up a report template, you can quickly generate a PDF with just a tap and share it with your colleagues or an instructor.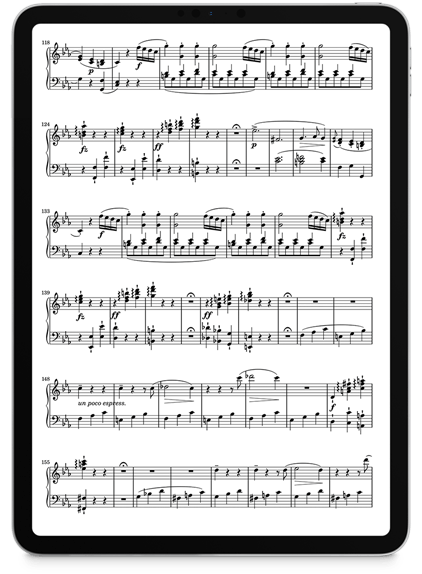 A Better View
Job number one for a music reader is to provide you with a clear, unobstructed view of your music. With forScore, the interface completely disappears while you're playing so you can focus on what's important. Your music is bright and crisp, and an optional sepia tone overlay keeps you from looking like a ghost on stage.
There's no way around it, though, even the biggest iPad's screen is slightly smaller than a standard piece of paper. You can zoom in on a page to get a quick look at more detailed sections, of course, but sometimes you need a more permanent solution.
Fortunately, things like wide margins aren't nearly as useful when you're working with digital music, so forScore can help you get rid of them and maximize your screen's real estate by increasing the zoom level for all pages at once.
For more control, our Crop tool is perfect: it automatically scans your page to find the optimal placement and zoom level, and you can adjust it from there as needed. Once everything looks just right, hit Save and you'll never have to worry about it again.
Audio Utilities
Metronome
If there's anywhere that precision matters, it's with a metronome. Even a tiny bit of drift can add up, which is why we didn't stop working until we had something that really shines (or ticks, rather).
Pitch Pipe
Find your starting pitch with this utility that sports a three-octave range in C-C or F-F, with clarinet or piano sounds or a finely-tunable tone. It's even a Today View widget, so you can access it instantly.
Tuner
The New York Times had this to say about our tuner app: "the design is modern and the app has few distracting bells and whistles…minimalist and speedy."
We couldn't have said it better.