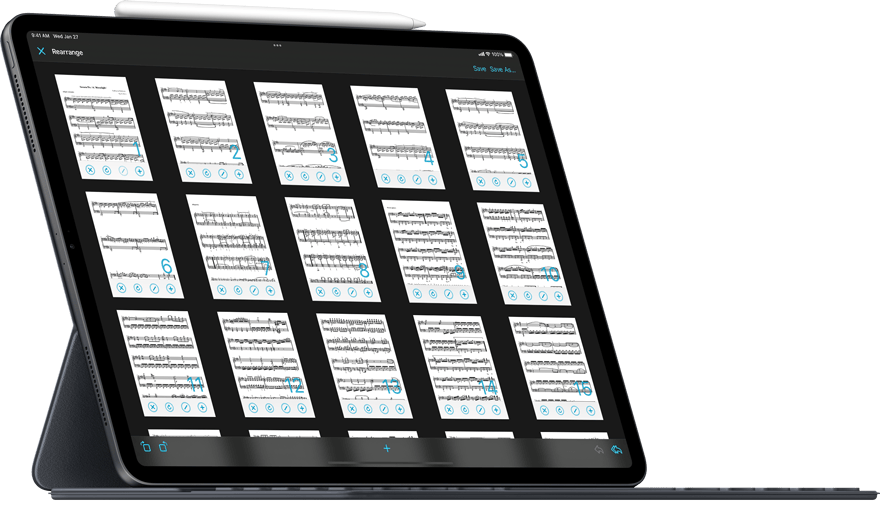 Everything you can do with paper, and so much more.
Tools
Rearrange
Reorder, delete, or duplicate pages of a score (makes handling repeats even easier!) or split one file up into multiple parts.
Buttons
Place a tappable, programmable button anywhere on your page to instantly control many of forScore's functions.
Versions
Create and switch between up to 24 independent sets of annotations, metadata, and more for each item in your library.
Darkroom
Digitize any score in minutes by snapping a photo of each page and letting forScore turn those images into a PDF file.
Libraries
Create a library for each band you're in, each instrument you play, or for each musician that uses your iPad.
Console
Edit score metadata and add files from the comfort of your computer with forScore's embedded web server and interface.
Recording
Share or review your progress by recording your practice sessions. Play them at half, three-quarter, or full speed.
Piano
Work through tricky measures with our virtual piano keyboard featuring a full 88-key range and optional note labels.
Restrictions
Limit access to certain functions and set a passcode with in-app restrictions. (Great for teachers!)
The Original
There's a lot more to a great app than its feature list, though. We launched forScore in April 2010, alongside the first iPad, and we've never stopped trying new things, pushing our limits, and finding creative new ways of solving problems.
It's easy to copy a great feature, check off a box, and move on (so many of our competitors do). In fact, many of our best features have become so ubiquitous that it's hard to tell who came up with it in the first place. We love it.
We love the competition, too, but we're not here to settle for good enough, to fix a symptom instead of truly understanding the perspective behind it, to follow, or to take your money and run. We know that every feature copied is a missed opportunity to innovate and find a better way of overcoming an obstacle. We work for you, and we can't wait to show you what's next.