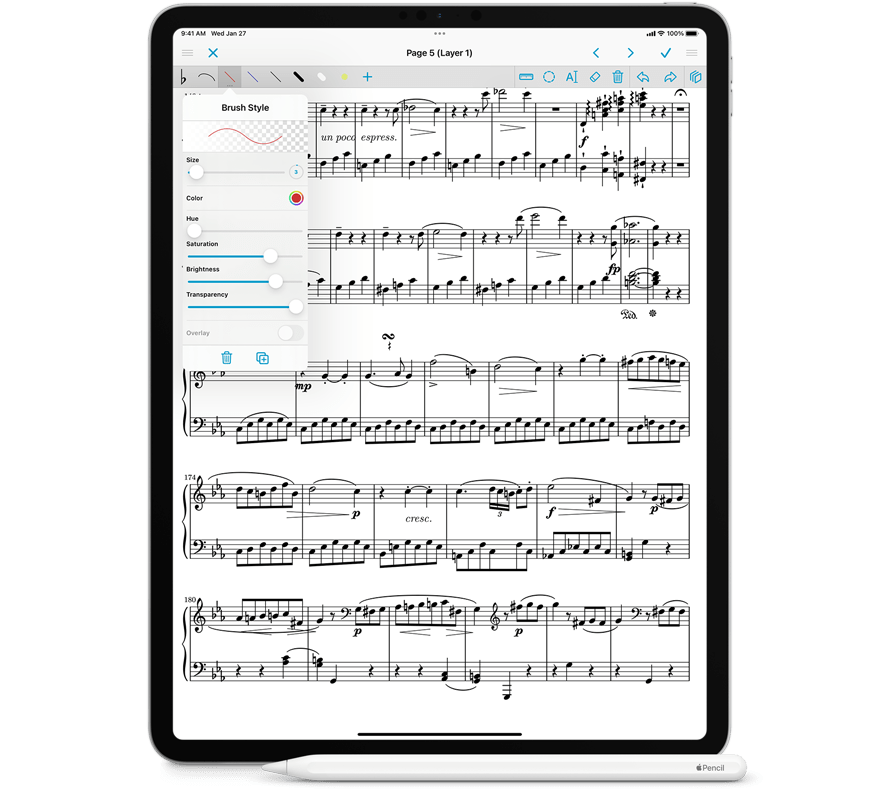 Vroom.
Annotation
When it comes to annotation, forScore's flexibility is unparalleled. Create and edit an unlimited number of fully customizable drawing presets. Add text to your page with adjustable font styles, colors, and sizes, and leave clumsy controls behind: forScore's text boxes adjust their height automatically as you type. Place common musical notation symbols on the page with our unique stamps feature, and even draw or import your own designs with our built-in stamp creator. With features like layers, undo/redo support, stamp tinting, and the ability to view embedded PDF annotations, it's easy to see why forScore's annotation support is simply the best in its class.
With Apple Pencil, annotating is even more natural: simply pick up your Pencil and start drawing at any time, just like you would with paper. The moment Pencil touches the screen, forScore automatically activates annotation mode and tracks your drawings without missing a thing.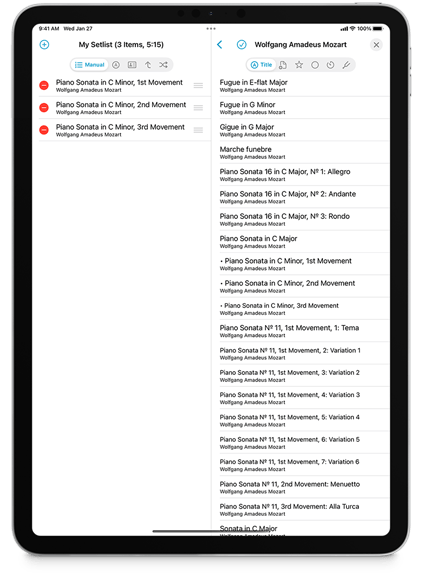 Setlists
Automatic organization of your library is great most of the time, but when you're ready to play through a specific list of scores, Setlists are the perfect tool for the job.
Add items to your list, more than once if needed, and rearrange them until it looks just right. Select a piece to start playing and you'll be able to turn pages not only within that file, but between files as well.
You can view and play through setlists in their original order or sorted alphabetically, by least-recently played, or on shuffle. If you know something by heart or need to sit one song out, you can even add a placeholder to your setlist so you don't forget.
Create as many setlists as you like, and you can send a copy to fellow forScore users with just a few taps. You can also share setlists with your other colleagues as one long combined PDF file (with our without your annotations) or as a simple text list.
Collaboration
Sharing
Print your scores and setlists, email them, copy them to other apps, upload them to Dropbox or other popular cloud services, or send them directly to nearby forScore users via AirDrop. Send just the original copy, or include your own annotations.
Cue
Cue transforms nearby iPads into a network of synchronized readers. A leader turns pages and navigates to different songs, and everyone else follows along automatically. If someone doesn't have a particular piece, the leader can share it with a tap.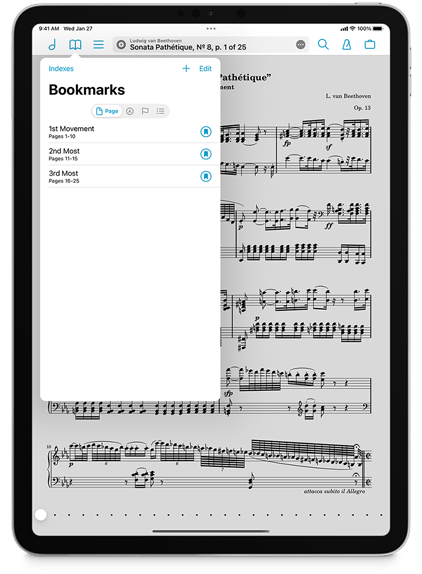 Bookmarks
When you've got one long PDF file with multiple pieces in it, you'll probably want to be able to jump to a particular song quickly. That's why we created Bookmarks: give a page a name to get back there instantly.
Bookmarks can be more than just references to a single page, though, they also allow you to transform a set of pages from one PDF file into a virtual item in your forScore library. The result looks just like any other file in your collection, and it can be added to setlists just like scores can. They also have their own metadata so you can browse or search for them just as you normally would.
If your PDF file has a table of contents, forScore can even take that information and create bookmarks for you instantly. Or, if you prefer, you can use the table of contents as-is to navigate to a particular page.
New in forScore 10.2, you can also create bookmarks by importing data from a comma-separated values (CSV) file. There's no prep work to do on your computer ahead of time, just assign columns of data to specific types of forScore metadata, then browse through each record to make sure things look right. Find CSV files online for popular compilations, or create them quickly and comfortably with any spreadsheet editor.
MIDI
Scores
Configure your setup by sending score-specific commands, or open a particular score with an incoming message.
Shortcuts
Turn pages or trigger many of forScore's functions with the press of any on/off style control on your device.
Keyboard
If your MIDI controller needs one, forScore can act like a synth and produce piano sounds as you play.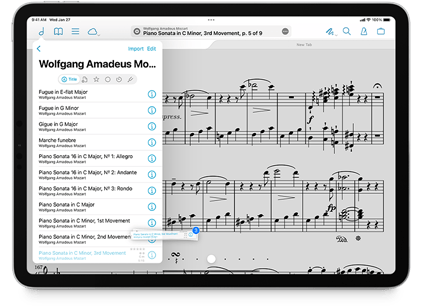 Drag and Drop
iOS 11+
Deeply integrated into forScore, iOS 11's Drag and Drop gestures put even more power at your fingertips by making everyday tasks far more direct and natural. These interactions are woven into many of forScore's panels and views, allowing for hundreds of combinations and unique, streamlined actions.
Drag and drop isn't a new feature, it's a whole new way of working. It's contextual, smart, and puts the focus back on what you want to achieve instead of making you stop to remember which mode you have to be in or which picker you have to open to do the same thing.
From importing scores and tracks to creating and editing setlists, whether you're a seasoned forScore expert or brand new to iOS, it really takes things to the next level and you just need to see it to believe it. And once you've tried it, there's simply no going back.